Commander Confirms KKB Crushing Operation to Save the People
By : Herry Barus And Aldo Bella Putra | Sunday, November 19 2017 - 18:30 IWST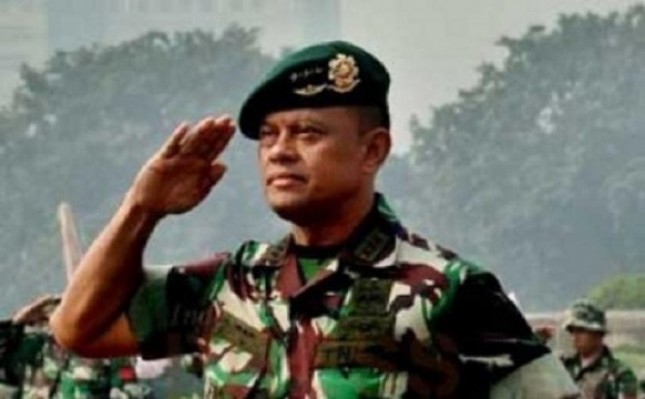 Panglima TNI Jenderal Gatot Nurmantyo (Foto Ist)
INDUSTRY.co.id - Timika - TNI Commander Gen. Gatot Nurmantyo affirmed the crackdown on the Armed Forces Crime Group - National Liberation Army of the Free Papua Organization (KKB - TPN OPM) in Kimbeli and Banti, Tembagapura District, Mimika Regency, Papua on Friday (17/11/2017) solely for the sake of saving civil society.
"The separatist movement has committed murder, then took hostage taking, not being held in one room but in a location and making them unable to go anywhere, get no services, whether education, health, etc." said General Gatot Nurmantyo in Tembagapura, Sunday (19/11/2017)
The TNI Commander together with a number of top officials of the TNI Headquarters in particular came to Tembagapura, Timika, on Saturday (18/11) in order to confer an extraordinary promotion to 58 TNI soldiers directly involved in the OPM KKB-TPN crushing team.
The TNI soldiers who got the extraordinary promotion came from the unity of Infantry Battalion 751 Rider Jayapura, Special Forces Command (Kopassus), and Kostrad Combat Counter Combat (Tontaipur).
The ceremony of the extraordinary promotion to dozens of TNI soldiers took place in Kampung Utikini Lama, Tembagapura District, Sunday morning.
General Gatot said that the extraordinary promotion was held in Kampung Kimbeli or Kampung Banti.
However, the plan was canceled because the access road to the two villages was heavily damaged due to heavy equipment dug by KKB-TPN OPM, some time ago.
The TNI Commander asserted that for hundreds of civilians were isolated in Kimbeli, Banti and landslide areas near Kali Kabur, residents were subjected to inhumane treatment of OPM-KKB-TPN.
"The hostages are also intimidated, even 12 women reportedly experienced sexual violence," said the number one man in the TNI.
Not only that, some civilians claimed looted and deprived of their property.
Based on data received by the police, the amount of money seized reached Rp107, 5 million, gold looted as many as 254.4 grams, and as many as 200 mobile phones seized by KKB.
General Gatot Nurmantyo insisted the action could not be allowed to continue so that the state through the TNI and Polri apparatus must be present to save civil society.
"Urgency, because hostage taking has been done since November 1 and the health day of the hostages is decreasing, hunger because their logistics supplies have started to run out so must be taken firm action," said the TNI Commander.
The assertive action must be taken immediately in view of the various approaches taken by the Police Chief of Police Inspector General Boy Rafli Amar along with the figures but not the hearts of the members of the armed separatist group.
"The Chief of Police has used various ways to negotiate, either through church leaders, community leaders, local government and all efforts are made," Gatot said.