PWI UKW Facilitation for Journalists Corporate Media Siber SMSI Members
By : Herry Barus And Aldo Bella Putra | Sunday, November 19 2017 - 19:00 IWST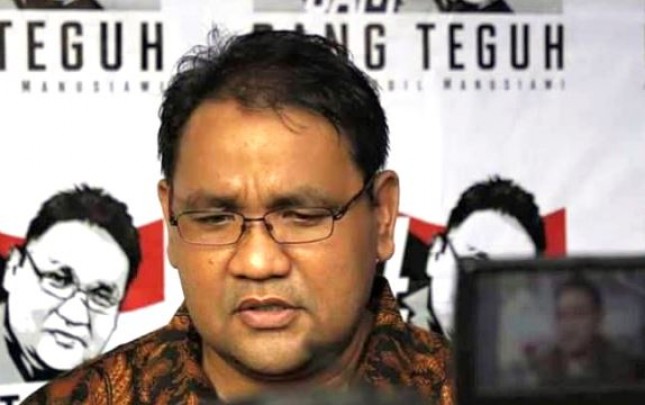 Teguh Santosa Ketua Umum SMSI (Foto Ist)
INDUSTRY.co.id - Bengkulu - Persatuan Journalist Indonesia (PWI) gives an opportunity to journalists who work in media companies' siber members of Siber Indonesia Media Union (SMSI) to follow the Journalist Competency Test (UKW).
This was conveyed by PWI Secretary General Hendry Ch. Wake up in dialogue with the Chairman of SMSI Teguh Santosa at Santika Hotel, Bengkulu, Saturday night (18/11/2017).
"This opportunity is given to journalists from SMI cyber media companies who have a clear legal entity, as required by the Press Council," said Hendry who is also a member of the Press Council.
Responding to the opportunity presented by PWI Secretary General Hendry Ch. Wake up, Chairman of SMSI Teguh Santosa said, it will pay attention to it as well as possible.
"We will ensure that members of SMSI who send their reporters to join UKW PWI are siber media companies that have legal entities," said Teguh.
Dialogue outside the arena of the National Working Conference (Konfernas) PWI was also attended by Chairman of PWI Bengkulu Zaki Anthony and Chairman of SMSI Bengkulu Rahimandani.
SMSI Head Bengkulu Rahimandani said it was asking for help so that journalists from SMSI members can follow UKW.
Rahimandani added, will join to ensure the legal status of SMSI members who will follow UKW PWI.
"SMSI Bengkulu wants to make sure that the siber media companies that are members are professional companies. They have the right to send journalists to join UKW," he said.
Briefing of UKW Participants
The Chairman of PWI Bengkulu Zaki Anthony added UKW can be held next December. Furthermore, he invited Rahimandani to coordinate for the smoothness of this activity.
"Prior to UKW, we will organize pre-UKW activities whose contents are debriefing UKW participants so that they have advance understanding of UKW," he said.
On the statement of Zaki Anthony, Rahimandani thanked him, and will soon make preparations for the pre-UKW and UKW.
The UKW "collaboration" plan between PWI and SMSI in Bengkulu according to the Secretary General of SMSI who is also Chairman of PWI Banten, Firdaus, is something ideal and should be considering that SMSI was founded on the initiative of PWI members owning and managing internet based mass media.
"SMSI as an organization of siber media companies can be said to be born from PWI's womb, and it is fitting for both organizations to strengthen and work together in creating a healthy and professional press environment in the country," Firdaus said.