Revealed, Cigarette Losses Reach Rp 596.61 Trillion
By : Herry Barus And Aldo Bella Putra | Thursday, November 23 2017 - 19:00 IWST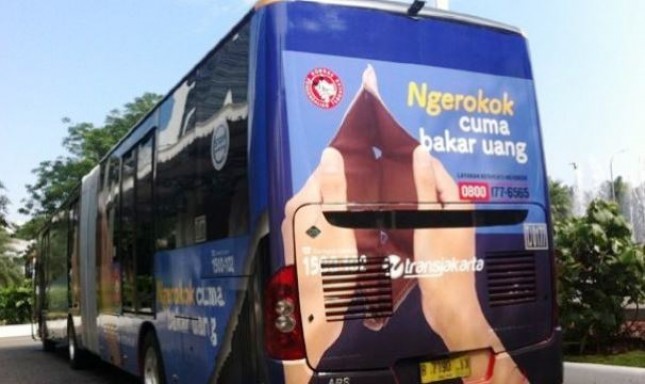 Ngerokok Cuma Bakar Uang (Foto Investor.co.id)
INDUSTRY.co.id - Jakarta - Researcher of the Health Research and Development Agency of the Ministry of Health Soewarta Kosen said the macroeconomic losses due to cigarettes in 2015 reached Rp596, 61 trillion or 45.9 billion US dollars.
"The loss includes cigarette spending, productive losses due to morbidity, disability and premature death, and expenditures due to tobacco-related illnesses," Soewarta wrote in the book "Health and Economic Cost of Tobacco in Indonesia" launched by the Ministry of Health in Jakarta on Wednesday 11/23/2017)
Soewarta said the average cigarette consumption of Indonesians in 2015 is 12.3 cigarettes per day or 369 cigarettes per month.
If the average price of cigarettes is Rp700 per stall, then per capita spending on cigarettes in one month reaches Rp258,300 or Rp3,099,600 a year. It is estimated that in 2015 the total spending of Indonesians to buy cigarettes is Rp208,83 trillion.
While health spending for hospitalization due to tobacco disease in 2015, based on the national health insurance standard rate in hospital class B, reached Rp13, 67 trillion.
Outpatient health expenditures due to tobacco in 2015, assuming that only one visit per case based on outpatient tariffs in primary and secondary health services, reached Rp53.44 billion.
While the total loss of years of morbidity, disability and premature death or "Disability Adjusted Life Years (DALYs) Loss" in 2015 reached 8,558,601 DALYs. If Indonesia's per capita gross domestic product in 2015 was 3.362 US dollars, then the losses incurred reached 28.7 billion dollars or Rp374.06 trillion.
"Tobacco is the only cause of preventable death, but tobacco consumption in Indonesia has increased rapidly in the last 30 years due to several factors," he said.
According to Soewarta, factors that cause tobacco consumption in Indonesia are increasing, among others, population growth, relatively cheap cigarette prices, widespread and intensive cigarette marketing and public knowledge of low tobacco hazards.
The Institute for Health Research and Development of the Ministry of Health published the book "Health and Economic Cost of Tobacco in Indonesia".
Head of Health Research and Development Agency of Kemenkes Siswanto said the book is the result of collaboration of researchers from Balitbangkes and universities.
"This book needs to be advocated to stakeholders regarding tobacco control in an effort to reduce the rate of non-communicable diseases," he told media crews.
In addition to Soewarta, other researchers involved in the preparation of the book are researchers Balitbangkes Kemenkes Nunik Kusumawardani, researcher of the Faculty of Public Health University of Indonesia Hasbullah Thabrany and researchers Public Health Faculty Airlangga University Santi Martini.