Showed Off Best Product on GIIAS Medan Auto Show
By : Ahmad Fadli And Aldi Firhand. A | Friday, November 24 2017 - 15:48 IWST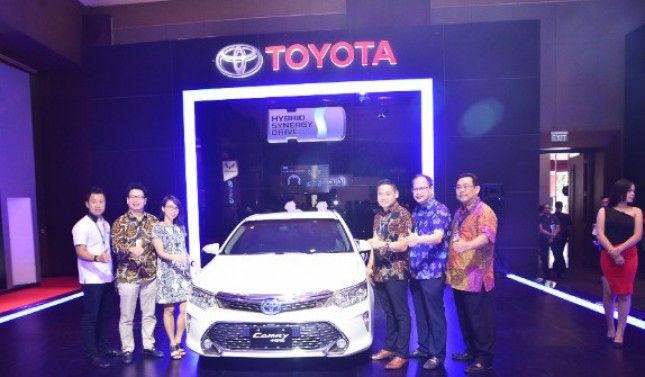 At GIIAS Medan Auto Show, visitors can find the latest car range from APM participants.
INDUSTRY.co.id - Medan - Automotive exhibition GIIAS Medan Auto Show 2017 has opened successfully and lively and is now entering the second day. The exhibition which was held on 22 - 26 November 2017 at Santika Convention Center, Medan, North Sumatera was followed by 31 total exhibitors.
Of the total participants, 9 Brand Agent Brand (APM) brands featured the latest passenger cars, BMW, Daihatsu, Honda, Renault, Lexus, Mitsubishi Motors, Suzuki, Toyota and Wuling.
"GIIAS Medan Auto Show 2017 will provide new experiences for automotive enthusiasts as well as a show event for passenger vehicles and automotive supporting accessories. The presence of 9 APMs that bring their superior products will provide spectacle as well as update the latest information. Also in the first event, GIIAS Medan presents many surprises offer programs for the visitors "said Yusuf Karim Ungsi, Director of One Events, as event organizer GIIAS Medan Auto Show 2017.
Toyota who holds the title as market leader again participated in liven up GIIAS Medan 2017 event. Besides showing Agya for hatchback segment, Calya, Sienta, Kijang Innova and Avanza in MPV segment, other display products displayed by Toyota as Beyond Product implementation is Camry Hybrid (sedan ) and Fortuner TRD (SUV). The presence of Sienta Ezzy and Fortuner TRD in GIIAS Medan 2017 as well as to demonstrate the spirit and ability of Toyota Astra Motor in providing local touch on every Toyota car marketed in Indonesia in accordance with the character of the existing community.
Toyota also puts the Camry Hybrid presented with the Hybrid Bike to give a simple overview to the public on how Toyota's hybrid technology works as part of the spirit of Beyond Technology in the development of environmentally friendly automotive products for people's lives.
Mitsubishi continues the introduction of the Mitsubishi Xpander by participating in the GIIAS Medan Auto Show 2017. Mitsubishi presents its best passenger vehicle line with 4 display units, Xpander Ultimate AT, Xpander Sport AT, Pajero Sport Dakar 4x2 and Outlander Sport PX Action. Consumers can also immediately feel the impression driving a Mitsubishi vehicle through 2 units of test drive vehicles on this activity, namely Xpander Ultimate AT and Xpander Exceed MT.
In the event GIIAS Medan Auto Show 2017, Renault brings superior products, including Koleos which is the latest model of Renault in the medium class SUV, Duster 4x2 offers compact SUV performance with efficient fuel consumption in its class, and Kwid which is a mini crossover offers innovative and intuitive features. Renault also presents after-sales service program "Renault Piece of Mind" offered to the customer to improve the tranquility and comfort during driving.
Wuling Motors, the newest member of GAIKINDO, utilizes this event to bring its flagship MPV product, the Convero S and Confero series. In addition to displaying the Confero series, Wuling also brings a variety of interesting offers in GIIAS Medan 2017. Visitors can choose one of these promos in the form of DP (down payment) attractive specifically for credit purchases, maintenance bonuses for cash purchases, or special rates for trade- in. In addition, consumers who make purchases, will have the opportunity to bring home a gift directly worth millions of dollars, of course, with the terms and conditions apply.
The ticket price of GIIAS Medan Auto Show 2017 is Rp10,000. But do not worry about the price of this ticket, because it will present a surprise Free Sign for you #SabatabatGIIAS. More information and details about GIIAS Medan Auto Show 2017, please visit www.medanautoshow.com or follow social media Instagram @giias_medan and Facebook GIIAS Medan 2017.