Marine-II Battalion Firer 52 Rockets in Singkawang
By : Herry Barus And Aldo Bella Putra | Sunday, November 26 2017 - 13:00 IWST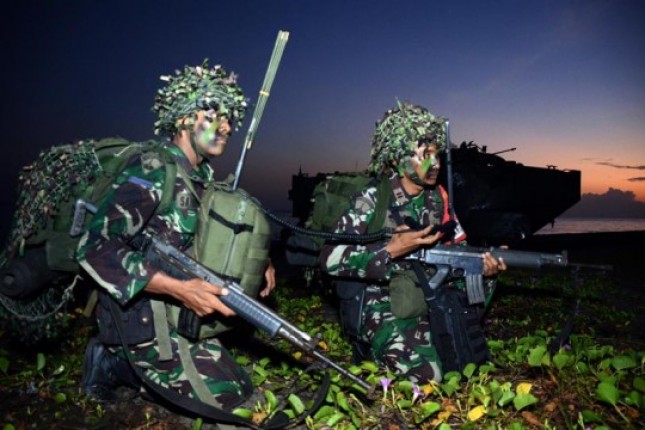 Ilustrasi Marinir latihan tempur di Situbodo Jatim (Foto Ist)
INDUSTRY.co.id - Singkawang - Battalion II Marines successfully fired as many as 52 rockets in two days doing combat training at Turtle Beach to Bajau Hill Singkawang, West Kalimantan, Saturday (25/11/2017).
"In the two days of this exercise, we successfully fired as many as 52 rockets in the right direction using two units of Multi Luanch Rocket Systen (MLRS) Combat Vehicle (Ranpur)," said Head of Information Office Lantamal XII Pontianak, Major Marine (E) Irawan Tri Budiono Singkawang.
He explained that the combat training was followed by 36 personnel and led directly by the Commander of Battalion (Dayon) Rocket II Marines Jakarta, Lieutenant Colonel (Mar) Wahyudi Latif, Ranpur MLRS with 40 barrel from morning until noon managed to disburse rockets from the beach Kura-Kura Village Karimunting Bengkayang Regency to enemy headquarters in Bukit Bajau Bengkayang, or in the known coastal area in Singkawang.
"This is an annual routine of the Marines, and the election of West Kalimantan, because by chance in West Kalimantan will be diresmikian Marine Defense Base (Yonmarhanland) XII / Pontianak Pasmar II," he said.
Ranpur MLRS itself has a range of about 20 kilometers, but at this time the exercise from rocket launch distance to the target is only 4.8 kilometers away while one unit of Ranpur MLRS was able to burn an area of ​​three hectares.
The Bajau Hill battle was part of the simulation of the Raksa Yudha 17 drill, where in this exercise the Navy deployed various armaments such as warships, cannons, tanks and the troops of the Marines II Amphibious Amai. The annual training of Navy troops is centered on the Turtle Beach from 21 to 27 November 2017. The peak of the event will be closed with the inauguration of Yonmarhanland XII / Pontianak, he said.
In the exercise involved the Navy's Kolinlamil, West Fleet, Marines, Puspenerbal, and Pushidrosal. This exercise started from Jakarta to the target of amphibious landings in one of the areas in West Kalimantan, said Kadispen Lantamal XII Pontianak. (Ant)