21st Anniversary, BNI Life Targets Millennial Generation
By : Ahmad Fadli Dan Aldo Bella Putra | Tuesday, November 28 2017 - 19:30 IWST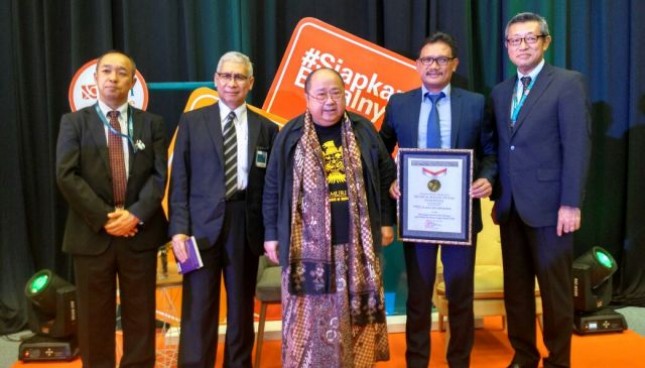 BNI Life Peringati HUT ke 21 Tahun
INDUSTRY.co.id - Jakarta - Entering the age of 21 years, BNI Life is ready to help inspire millennial generation of Indonesia to become a ready-made generation of Indonesia to prepare a plan for the protection of their future life supplies.
"Like an adult, BNI Life, along with the company's mission and enthusiasm to enter the age of 21, is ready to help inspire and facilitate the Millenial Indonesia generation to be Ready Generation Indonesia, to be wise and mature in preparing supplies at every stage of life in the future," said Plt President Director of BNI Life Geger Maulana in Jakarta, Tuesday (28/11/2017).
The Ready Generation themed Talkshow, Healthy Generation, presents speakers. Tri Maryani Kusuma Astuti and Indi Barends with the goal of education and understanding to the Indonesian prepared generation of the importance of preparing health supplies for their future.
The results of research that was launched Alvara Research Center in February 2017, showed health insurance became the second largest ownership after savings ownership for the generation of ready for Indonesia as much as 48.5 percent. This shows evidence of a lifestyle change in the millenial generation that is increasingly concerned with health and healthy lifestyles.
"The research findings show that millenial generation understanding of the importance of preparing future supplies needs to be improved, including insurance protection plans," continued Geger Maulana.
Nevertheless, increasing understanding of the future stock of Indonesia's ready-made generation requires a different approach. This Ready Generation, has high creativity, confidence, and full of energy and connected with digital technology.
For that, continued Geger, BNI Life, in addition to preparing insurance products tailored to their needs and lifestyle, as well as preparing ease of service and communication with the readiness of technological and digital transformation.
Geger Maulana added, business development through digital channel is one of BNI Life's breakthroughs in improving business performance on an ongoing basis. In addition to these steps, BNI Life's business strategies include improving the quality and quantity of marketers, creating insurance products that have more benefits for customers, as well as improving service quality.