Minister Airlangga: The Industry Sector Becomes the Biggest Contributor to the Indonesian Economy
By : Ridwan And Aldi Firhand. A | Saturday, December 02 2017 - 21:48 IWST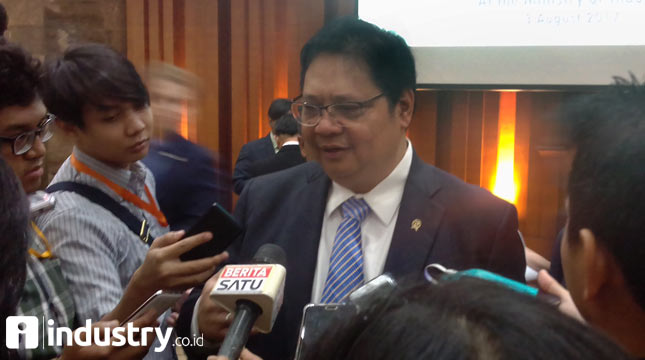 Minister of Industry Airlangga Hartarto
INDUSTRY.co.id -Jakarta- Minister of Industry (Menperin), Airlangga Hartarto see that Indonesia in its economic proportion can be categorized as an industrial country.
The reason, the industrial sector is the largest contributor to the national economy with donations reached more than 30 percent.
According to him, according to the agreement in the World Economic Forum, industrial activity is considered as a process that occurs inside and outside the factory. In fact, up to the consumer making recycled products.
"Until August 2017, the employment of industrial sector is 17.01 million people or 14.05 percent of the total workforce in Indonesia. In addition, tax contributions from the industrial sector reached Rp224.9 trillion," said Airlangga through a written statement in Jakarta (2/12/2017).
Based on data from the Central Bureau of Statistics (BPS), the performance of non-oil and gas processing industry in the third quarter of 2017 grew by 5.49 percent or higher compared to the national economic growth which reached 5.06 percent.
This achievement is supported by high growth industry subsector, such as base metal industry by 10.60 percent, food and beverage industry 9.49 percent, machinery and equipment industry 6.35 percent and transportation equipment industry 5.63 percent.
Menperin added, the current export market potential is still quite wide. Therefore, the national industry should be encouraged to combine the marketing objectives of its products, in addition to targeting the domestic market.
"The government is working to finalize international agreements so that the local products we rely on for export are not disturbed," he said.
In addition, Menperin sees manufacturing process in ASEAN getting connected with value chain and supply chain in the world and actively conducting research and development activities.
"We believe that ASEAN in the next decade can be a leading region to be a future of production, with an internet base of everythingsabagai main infrastructure," he said.
Menperin is optimistic that the target can be realized because ASEAN has a strong potential to achieve it, with great advantages supported by stable regional economic growth and a greater percentage of world economic growth.
"ASEAN is supported by several other enabler factors, such as the young population, the growing middle class, the burgeoning digital infrastructure, the transformation of small and medium-sized industries towards digital, and the connectivity between people," he said.