APVI: Vape Industry Capable to Create 10,000 New Jobs
By : Ahmad Fadli And Aldi Firhand. A | Monday, December 04 2017 - 12:20 IWST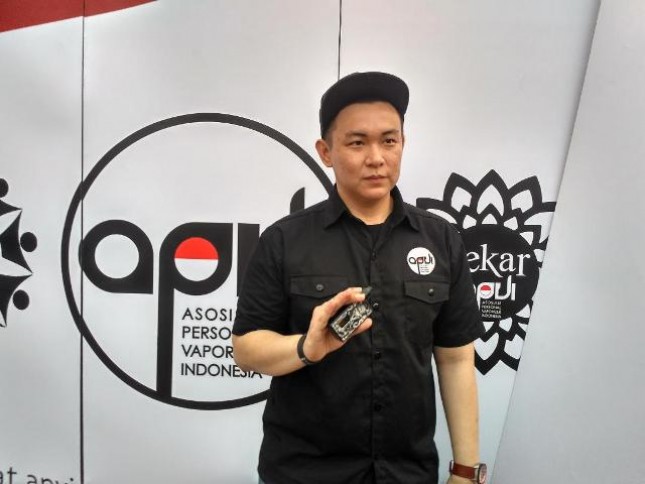 Rhomedal Public Relations Head of the Association of Personal Vaporizer Indonesia (APVI)
INDUSTRY.co.id - Jakarta - Association of Personal Vaporizer Indonesia (APVI) recorded at least 3,500 existing vape stores in the country as a consequence of the growing vape business. In 2017, vape or electric cigarette business continues to grow. In Jakarta at least estimated there are 40,000 users vape. Current vape fluid consumption has also penetrated 40,000 bottles per month.
Head of Public Relations APVI Rhomedal said, in terms of financial vape will be a creative industry that supports the plantation of all lines. The estimated number of vape merchants in Indonesia reached 3,500 sellers.
3500 is if we assume have each 3 workers just then it has made 10,000 new jobs. In addition, this liquid sales trigger the potential of Indonesia's turnover reaches 4-5 trillion per year, said Rhomedal in the Jakarta Vape Project 2017 event, in Jakarta on Sunday (3/12/2017)
It hopes that with the policy of imposing 57 percent excise on liquid (liquid) vape starting July 2018, will give recognition to this business. Of course, continued Rhomedal, the policy will be more complete if accompanied by other derivative rules related to this business as done by other countries.
"For example, the regulation is not only a matter of excise tax and followed by an explanation of sales, distribution, size, material detail, and others," he explained.
With such a clear policy, said Rhomedal, will provide business certainty and minimize the occurrence of abuse by irresponsible actors.
"The Association itself continues to conduct campaigns, promotions and socialization so that businessmen and consumers in this business, following the regulations and rules set by the government," he added.
For information, the government has set the tax for liquid (liquid) vape with a magnitude of 57 percent starting July 1, 2018. This provision is contained in the Regulation of the Minister of Finance (PMK) No. 146 Year 2017, liquid (liquid) vape is considered in accordance with the object of reference tax on Law (Act) Number 39 Year 2007.