Olympic Tax Post Tax Amnesty
By : Drs. Cristianto Wibisono And Aldo Bella Putra | Tuesday, December 05 2017 - 22:00 IWST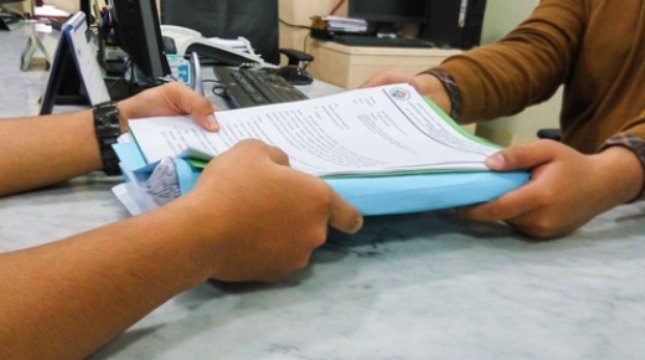 Ilustrasi penyerahan berkas pajak. (Foto: Pajak.go.id)
INDUSTRY.co.id - Jakarta, Almost 20 years have passed since the Soeharto presidency, which ironically has been routinely since 1988, announces the highest Indonesian taxpayer rank both Individual and Corporate Taxpayers.
The last announcement was broadcast by Kompas on 14 February 1998 and was suspended until this moment.
On 6 October 2017, former 10th Bank Indonesia Governor Soedradjad Djiwandono wrote in Kompas entitled Normalization of Monetary Policy, that 2008 krismon in the US is a replica of the 1998 krismon in East Asia.
The breakthrough of the Fed (US central bank) update on September 20, 2017 marks the era of normalization of policies that must have impacted the United States including Indonesia.
In the rise of 7 Indonesian presidents politicking is only a secondary factor to economic success.
Economic discomfort is the driving force of people power, which then becomes voters
Power and has been proven to oust the leftist Sosisalis of the Old Order of Bung Karno in 1965 until the right fascist regime of Soeharto's New Order military junta in 1998.
In addition, do not forget the development of geopolitics and elections at the global level (not just in Indonesia), which is inclined to use the controversial issue of SARA to mobilize voters power.
Can this worrying but trendy situation mask concrete economic performance?
Deliverance Jokowi 1.0 and defeat this petahana in 2019?
The Indonesian Business Data Center (PDBI) assesses the urgency of increasing public satisfaction with fiscal reform and the long-term strengthening of the Rupiah, which throughout history has deprived citizens of their trust in the government.
Related to this urgency, PDBI launched the AWASI initiative: The One Indonesian Citizenship Association with the vision of the mission to bring back the transparency of effective tax information to consolidate the mutual social trust of the governance apparatus with the private sector in the announcement of Top 25 Corporate Taxpayers at the Amnesty Post Tax Olympics 2016 December 7.
PDBI & AWASI proposed that starting 2018 Government and stakeholders re-announced the Top Taxpayer Rank list for fiscal awareness to take root and towards a tax ratio equal to developed countries.
There are 3 concretes recommendations of PDBI & AWASI in showing real economic deliverance that is:
I. The government studies the US and Japanese (mainly Japanese) APBNs which only 60% rely on tax revenues and 40% of the Bonds so that the Government is able to build a long-term strategic infrastructure self-financing from the infrastructure project itself.
II. The government issued the National Trust Bonds of the Century of Indonesia which is a long-term strategic infrastructure development bond so that public funds can be mobilized to cover the deficit without overloading the business flows with taxation.
Burdensome.
III. Consolidation and synergy 118 SOEs in 4 super-holding conglomerate ala Temasek shingga all Rp. 6,000 T SOE assets successfully utilized for leveraging in the global market with 4 super Temasek Rp. 1.500 Trillion
AWASI will continue to support effective fiscal reforms, not just related to fiscal awareness
Tax revenues, but in realizing the real situation and economic conditions through the real deliverance by Jokowi 1.0, and not necessarily creating a free and illegal Indonesia of pungli and corruption. (CW)