ASUS VivoBook Flip TP203, Easy User With Latest Technology
By : Hariyanto And Aldo Bella Putra | Friday, December 08 2017 - 19:30 IWST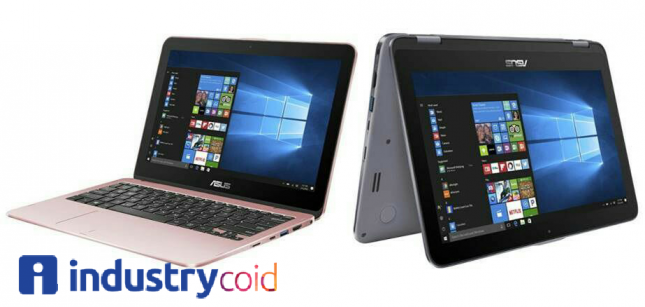 ASUS VivoBook Flip TP203
INDUSTRY.co.id - Jakarta - ASUS re-introduce newest laptop products that have convertible genre. The device called VivoBook Flip TP203 is made as concise as possible and multifunctional.
ASUS VivoBook Flip TP203 is the most affordable convertible laptop among the ranks of other VivoBook devices. And referring to the 100% Windows campaign that is being activated by ASUS, this device also has a built-in Windows 10 operating system. Users no longer need to install the operating system before using it.
Country Marketing Manager, ASUS Indonesia, Galip Fu said, users who crave laptop convertible with a limited budget can make ASUS VivoBook Flip TP203 as an option. "This laptop has a reliable performance to process computing systems because it is powered by four core or quad core processors, which can work simultaneously and quickly to run various applications," he said through an official statement to INDUSTRY.co.id, Friday (8/12 / 2017).
As a key supporter of performance, this 1.1kg-weighted device is equipped with an Intel Quad Core Pentium N4200 processor. The processor has a speed of up to 2.5 GHz to make its performance seamless while running the operating system and various programs that will be used by the owner.
"The speed of the processor is juxtaposed with the storage memory while the capacity of 4GB DDR3 type with 1600MHz speed with a large amount of RAM memory, users will feel comfortable when having to use the device to bermultitasking," said Galip.
He added, not only tight when processing the system, this processor is very power efficient because it has a TDP figure of only 6 watts. "The value of thermal design power (TDP) is very small that can make the laptop last up to 8 hours when used so that users do not bother looking for plugs when going to work," he said.
With a small screen of 11.6 inches, ASUS VivoBook TP203 has been equipped with a hinge that can be rotated up to 360 degrees. This allows users to use it as a laptop in general to become a tablet.
"With its innovative design, ASUS VivoBook Flip TP203 can be transformed into four shapes. You can turn it into a standing display mode or tent mode by turning the hinge up to 280 degrees. Not only that, when about to make a tablet, this device can rotate reach 360 degrees," he continued.
Tablet mode is useful when users want to use laptops more intimately like playing games or watching. While tentative mode, is a form that is ideal for use as a media presentation to the other person. Last display mode, is a form suitable for use by users when wanting to use laptop as a medium of learning, such as watching how to make cooking while others.
Not only does his weight become lighter than before, so is his body size increasingly thin and compact. However, this laptop still loads the screen resolution HD (1366x766) pixel tech wide view angle so it can be viewed from a wider viewing angle. So users will be very comfortable when using it
ASUS VivoBook Flip TP203 comes with a more premium design and color matches are more captivating. Body wrapped with metal hairline design style covered with colors Shimmer Gold, Rose Gold, or Star Gray. As a result, the increase in physical appearance makes VivoBook Flip TP203semakin look stylish and trendy when used anywhere.
ASUS VivoBook Flip TP203 is bagging a number of qualified technologies that make this device more comfortable to use. Among other touch screen with 10 point touch technology and fingerprint sensor.
"The 10-finger touchscreen feature will make the display more responsive when in use. The feature we present to provide more convenience to the user. The availability of fingerprint is also very helpful for the device to be more secure from the reach of others, and make it more personal," he continued.
Meanwhile, from the side of storage media, ASUS provides storage-based hard drive drives of 500GB. The capacity of such space can contain a variety of important files such as documents, movies, and other multimedia files.
This laptop also comes with a complete port support, among others, card reader, micro HDMI, and three USB 3.0. Not to mention ASUS also pinned the Sonic Master audio technology, to make audio out of the device more clear and tight.