Protecting Migrant Workers, BPJS Employment Cooperates with the Indonesian Embassy in Singapore
By : Ahmad Fadli And Aldo Bella Putra | Monday, December 11 2017 - 16:00 IWST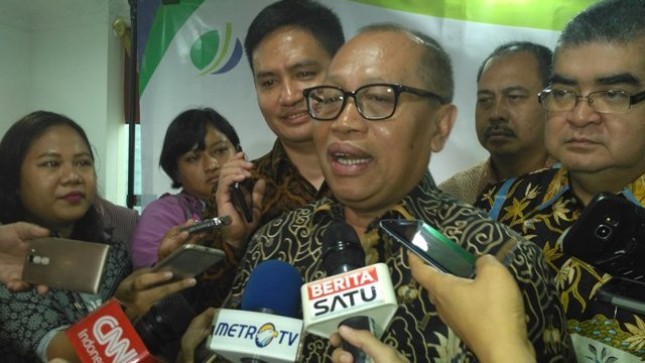 Dirut BPJS Ketenagakerjaan Agus Susanto, Menara Jamsostek, Kamis 23/3 (Fadli: Industry.co.id)
INDUSTRY.co.id - Jakarta - BPJS Social Security Administering Body (BPJS) Employment in cooperation with the Indonesian Embassy (Embassy) in Singapore provides social insurance in the form of insurance for all Indonesian migrant workers (PMI) or labor (TKI) in Singapore.
This cooperation is contained in the Memorandum of Understanding (MoU) signed by the Ambassador of Indonesia to Singapore, I Ngurah Swajaya and Director of BPJS Employment Agus Susanto (9/12).
Also witnessed the signing of the MoU is the Secretary General of the Ministry of Manpower (Kemnaker), Hery Sudarmanto, and Director of Foreign Workers Placement, Directorate General of Placement and Safety and Health (K3), Kemnaker, Soes Hindarno.
I Ngurah Swajaya said, the number of PMI or migrant workers in Singapore as many as 130,000 people where as many as 100,000 PMI people who work on land (regular) and 30,000 PMI work as seafarers. "I hope the social protection organized by BPJS Employment also includes these seafarers," Ngurah said.
While Hery Sudarmanto asserted, the important thing regulated in Law 18/2017 on the Protection of Indonesian Migrant Workers is to improve the protection for migrant workers abroad. The enhancement of such protection, Hery said, is, firstly, the strengthening of all labor attachés throughout the embassy in all placement countries. "All employment attaches must provide maximum service to TKI, as well as provide complete and complete data to the central government in Jakarta," he said.
Second, the strengthening of local government such as one-stop service for migrant workers and the implementation of productive migrant village (Desmigrative). Third, replace the organization of insurance workers abroad from a private insurance consortium to BPJS Employment. "The government is convinced that the insurance of migrant workers is handled by the BPJS of Manpower, the insurance claims of Indonesian workers will be made easier, and no more Indonesian workers will be cheated," he said.
As reported, since August 1, 2017, in accordance with the Regulation of the Minister of Manpower No. 07 of 2017, BPJS Employment has a new duty as the organizer of social protection program (insurance) for PMI which has been launched in Tulungagung Regency, East Java.
This launch marks an increasingly widespread coverage of workers who are covered by labor social security protection, excluding wage workers or formal workers and non-wage workers (BPU) or informal workers who are previously required to be protected.
Agus said the cooperation with the Indonesian Embassy in Singapore aims to synergize the authorities of the parties in order to optimize the protection and service of social security programs Employment. The synergy is also made in the integration of PMI database that exist in KBRI with data owned by BPJS Employment and utilization of Smart Embassy system owned by Indonesian Embassy in Singapore.