Olympus OMD E-M10 Mark III Officially Entrances Indonesia, Lets see its excellences
By : Hariyanto And Aldo Bella Putra | Monday, December 11 2017 - 17:00 IWST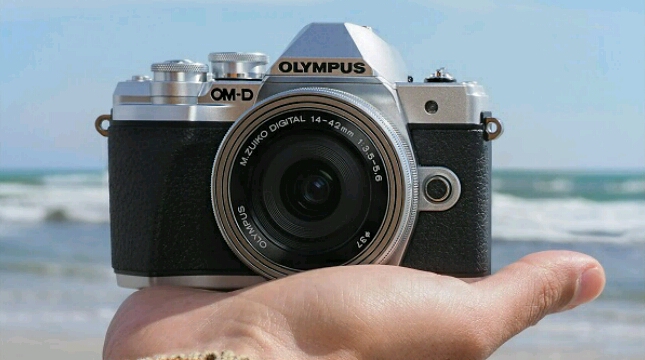 Olympus OMD E-M10 Mark III
INDUSTRY.co.id - Olympus presents the latest generation of OMD camera E-M10 Mark III for the Indonesian market. Marketing Manager - Olympus Customer Care Indonesia (OCCI), Sandy Chandra said, with a modern classic design, Olympus has carefully designed the E-M10 Mark lll camera to be the perfect traveling companion.
"With a light weight and easy to use, this camera has an intuitive control to facilitate us when shooting, resulting in sharp images and smooth video" Sandy said through an official statement to INDUSTRY.co.id received, Monday (11/12 / 2017).
According to Sandy, this camera is launched at the right momentum at the end of the year, everyone plans to go on vacation with their beloved family or close friends.
"Your year-end holiday will be even more impressive with the latest Olympus OMD E-M10 Mark III camera. It is more concise because without bringing additional equipment such as dreadlocks and tripods," said Sandy.
The new model comes with a TruePic VIII image processor that helps improve performance when shooting low light and Olympus is renowned for In Body 5-axis Image Stabilization (IBIS). With 121 AF points as found on the OM-D E-M1 Mark II movie recording and the 4k UHD resolution, the new OM-D E-M10 Mark III feature is packed for the traveler, vlogger, blogger and high mobility.
Olympus OMD E-M10 Mark III uses the advanced In Body 5-Axis Image Stabilization technology that lets you take pictures with more mobility and freedom than any other camera in its class. The compact and lightweight sizes provide handheld shooting versatility that is easy to use for budding photography with diverse subject interests.
The Image Stabilizer (IS) function is generally useful for obtaining stable and sharp image results when shooting in low light conditions (requiring slow speed) or when camera conditions are shaken when in video recording mode. The IS (image stabilizer) IS technology effectively counteracts camera shake up to a maximum of four steps of shutter speed (4.5 stops) from compensation performance to produce extremely sharp handheld imaging results.
The image stabilizer feature of the Olympus OMD E-M10 Mark III camera body works by moving the sensor in the direction of movement on the x and y axes, pitch movement (like nodding motion), yaw (like shaking motion) and rolling (like rotating lens movement) , where the stabilization to cover the Rolling motion is indispensable when taking video.
From wide-angle landscape, portrait, human interest, travel, movies, macro close-ups to telephoto photos for action sports, all can be done easily on this camera. Thanks to IS 5-axis on the OMD E-M10 Mark III, users can take pictures with slow shutter speed without worrying about blur. When the camera is recording a movie, the image becomes much more stable as movie recording by Professional Videographer.
The camera becomes lightweight because it does not require stabilizertambahan tools such as Gymbal and tripod which would be very inconvenient when carrying traveling. Most important of all, of course the image remains of high quality and remains sharp.
Olympus OMD E-M10 Mark III is designed not only for the already advanced photography. Even the first time users use a DSLR or mirrorless camera can easily use it. Auto Mode This camera is very powerful to adjust all settings for each situation with precision, so you can take pictures easily.
This camera is equipped with four additional shooting modes of AUTO, SCN (Scene), AP mode (Advanced Photo) and ART (Art Filter). The shooting mode is added to the mode dial for easy access. AP Mode there is one interesting scene is Light Trails or often known as Star Trails, Star Trails shoot this should be done in a professional setting, but in E-M10 Mark III users just need to go into AP mode and select Nightscape and select "Light Trails "Be the Star Trails photo you crave.
Just like its predecessor, it has OM-D E-M10 Mark III high-speed AF which ensures quick focus on fast-moving subjects to capture beautiful, sharp and focused images. There is an increase of 81 AF points to 121 AF points found on the flagship model of the OM-D E-M1 Mark II that covers most imaging areas, so as to focus the subject anywhere on the monitor.
The difference with the previous series OM-D E-M10 Mark II, new OM-D E-M10 Mark III camera comes with 4K recording and full HD recording to ensure high quality video recording. The 120-fps High-speed Movie mode also ensures the second recording moments and slow-motion rounds that are not normally visible to the naked eye.
The OMD E-M10 Mark III camera also has a cordless connectivity that is enhanced by Wi-fi lines. This camera can connect with other devices that feature Wi-fi connections as well as tablets or smartphones running on Android or iOS platforms.
Olympus provides an application called OIS (Olympus Image Share) which can be downloaded for free through the Play Store and App Store. With this app, the shoot by the OMD E-M10 Mark III camera can be remotely wired from a distance through the smartphone. Not only that, the photographic parameters, as well as its features even zoom lens movement can be controlled from the smartphone.
With the remote menu in Olympus Image Share, through LCD smartphones, you can also shoot in extreme conditions like Low Light, moving subject, nightscape and group selfie with 14-52mm EZ wide lens. The result is directly in the smartphone storage. It is easier to share photos and videos from the camera directly to your social media account.