Indovision and MNC Play Combined to MNC Vision
By : Abraham Sihombing And Aldo Bella Putra | Tuesday, December 12 2017 - 19:30 IWST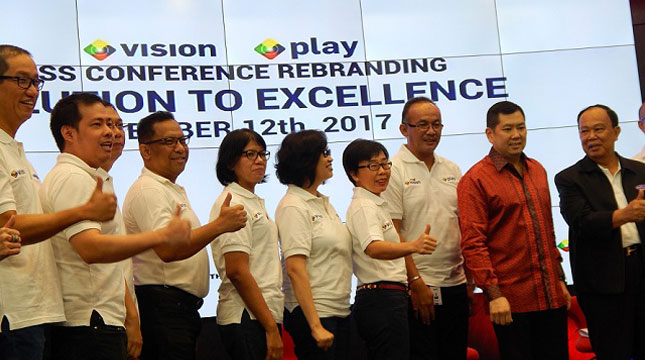 Harry Tanoesoedibjo, Chairman MNC Group, berfoto bersama Manajemen MNC Vision dan MNC Play setelah meresmikan nama baru MNC Vision untuk produk televisi berlanggangan milik MNC Group di Jakarta (Foto: Abraham Sihombing/Industry.co.id)
INDUSTRY.co.id - Jakarta - MNC Group today inaugurated the renaming of Indovision to MNC Vision. The name change is actually an integration or combination of Indovision's two pay-TV systems and MNC Play.
So far, MNC Group has a subscription television service with two systems. First is a television subscription using a satellite service system and its product is called Indovision.
Then, the second product is a subscription television that utilizes broadband or online services and is known as IPTV. Customers are also at the same time get high speed internet service (high speed internet).
"Lately, people are confused by the existence of two subscription television products and both are MNC products. Therefore, MNC Group management decided to change the name of Indovision to MNC Vision," said Harry Tanoesoedibjo, Chairman of MNC Group, at MNC News Center Building, Central Jakarta, Tuesday (12/12/2017).
According to Harry, the change of name is done to make MNC Group management easier to integrate the two subscription television services into one integrated service that will ultimately provide comfort for the community, especially the customers.
"With this new name, subscribers will be given the freedom to choose the services they like to take and subscribe to, whether satellite-based services (typically serving small areas), or broadband-based or IPTV-based services get its highspeed internet service through MNC Play products, "said Harry.
Harry explained, the condition provides flexibility, especially for customers. It aims to provide convenience to customers. The reason, the system will continue to be developed, so that ultimately can include mobile broadband, which is usually referred to as OTT (Over The Top).
"MNC Vision service is still two integrated services, but in the future there will be three integrated services. Therefore Teamwork Pay TV MNC Group consisting of MNC Vision and MNC Play in the future can synergize to the maximum to realize the third service," said Harry.
Furthermore, Harry said, the unification of both subscription television services aims to facilitate the promotion. Previously, both Indovision and MNC Play each are doing their own promotions.
"With the unification, everything can be done into one activity, including advertising on TV, print media, radio, online or in social media. It all aims to be more efficient," said Harry.
In addition, Harry said, the name change also aims to make everyone understand that Indovision which was renamed MNC Vision belongs to MNC Group.
"The condition will make customers more certain and I am sure it will provide a fresh aura because the name of Indovision seemed old. It's been 23 years! If humans, may be young, but if the product is old," said Harry.
Harry said that because of that long product that must be reborn by the name of MNC Vision which seem fresher and expected more eye catching, more interesting people.
"Certainly MNC Vision and MNC Play, or more easily abbreviated Vision and Play, are finally expected to continue to synergize so as to produce better performance to be more efficient so that the future is relatively more able to compete to capture customers in Indonesia's pay-TV market," Concluded Harry. (Abraham Sihombing)