New Renewable Energy Investment Is Still Promising
By : Herry Barus And Aldo Bella Putra | Saturday, December 16 2017 - 18:00 IWST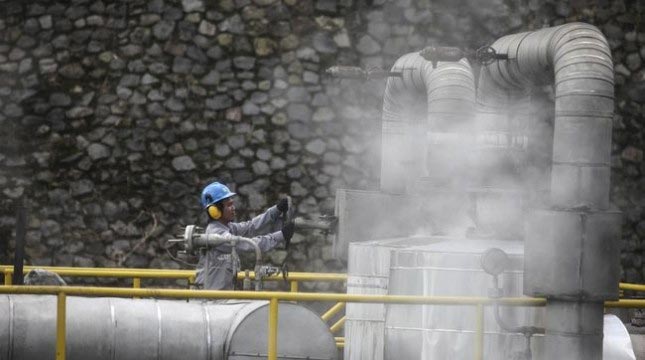 Kementerian Energi dan Sumber Daya Mineral (ESDM) mendorong penambahan kapasitas Pembangkit Listrik Tenaga Panas Bumi (PLTP) sebesar 255 Megawatt (MW) di tahun depan. (ANTARA FOTO/Muhammad Adimaja).
INDUSTRY.co.id - Belitung - Deputy Minister of Energy and Mineral Resources (ESDM) Arcandra Tahar said that new renewable energy investment (EBT) in Indonesia is still promising for developers.
In his visit to PLTBG in Jangkang, Belitung, Friday (15/12/2017) Wamen ESDM again said that the interest of renewable energy investment is increasing, especially in areas where the cost of providing the main (BPP) area is higher than the national BPP, one of them in Bangka Belitung this.
"In total in Indonesia, 2017 has signed 68 power purchase agreements (PPA) of renewable energy generation between PLN and the developer, even four times higher than last year's data of only 16 PPA of renewable energy," Arcandra told media crews.
Arcandra pointed out, for in Bangka Belitung region where BPP is the highest in Sumatra (Rp 1.907 / kWh), the purchase price for renewable energy to PLN is 85 percent or Rp1,621 / kWh.
"The cost of production PLTBg (Jangkang) is even lower than the local BPP, it's interesting," he said.
As is known electricity from PLTBg Jangkang is sold to PLN at Rp975 / kWh.
PLTBg operated by AANE in Jangkang Village, Dendang District, East Belitung Regency is a subsidiary of PT Austrindo Nusantara Jaya (ANJ) engaged in palm oil processing. AANE was established in 2009 and is tasked with treating palm oil mill effluent (POME) produced by ANJ to become electricity.
In 2013, AANE signed a power sales contract with PLN and was the first biogas developer to sell electricity commercially. In 2016, AANE's PLTBg capacity is 1.8 megawatts for 2,000 households with a capacity of 900 va.
Wamen ESDM and subsequent entourage paid a working visit to the communal off-grid PLTS in Dusun Tungkup, Desa Nyuruk, East Belitung District. The working visit to the two renewable energy plants is to see the potential of renewable energy interconnection to the PLN network.
The interconnection of PLTBg owned by AANE to the PLN network can be used as an example of replication for other PLTBG in Indonesia. Utilization of POME into electrical energy will add value for Indonesia as the second largest palm oil producing country in the world.
Meanwhile, the interconnection of PLTS Tungkup to PLN network can also be used as replica example for other off-grid PLTS project when PLN network starts to enter. The relatively small capacity of the PLTS is considered not to have a significant impact or disruption to the PLN network system.
Since 2011 until the end of 2016, the Directorate General of Renewable Energy and Energy Conservation (EBTKE) of the ESDM Ministry has built more than 600 PLTS and communal PLTMH with a total capacity of 25 megawatts. PLN is currently expanding to provide electricity access to various villages in Indonesia so that the interconnection of off-grid PLTS becomes essential for the sustainability of the utilization of PLTS built from APBN funds for the welfare of the community.
The interconnection of electricity from renewable energy to PLN's network can also contribute significantly to achieving 23 percent of renewable energy targets in the national energy mix by 2025, also helping Indonesia achieve a 29 percent reduction in greenhouse gas emissions by 2030.