Mount Agung is Safe, Status Beware Only For Radius 8-10 Km
By : Hariyanto And Aldo Bella Putra | Friday, December 22 2017 - 15:00 IWST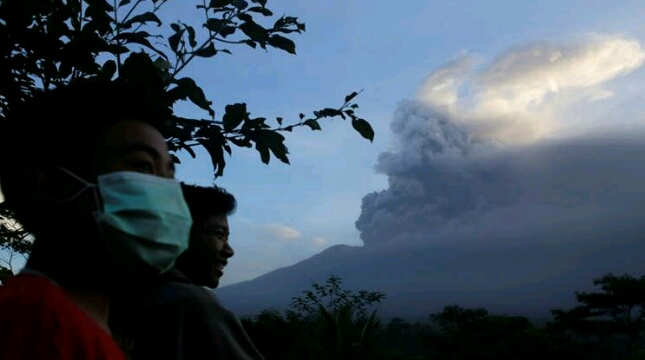 Aktivitas Vulkanik Gunung Agung (ist)
INDUSTRY.co.id - Bali - Status of Gunung Agung in Karang Asem, which is about 60 km from Bali, is declared safe, alert status is only applied for radius 8 to 10 km from the crater of the mountain.
This was conveyed by Minister of Energy and Mineral Resources (ESDM), Ignasius Jonan during his working visit to Pamecutan Kelod Substation, located in Dangin Puri Kauh Village, Denpasar City, Bali, on Thursday (21/12/2017).
"Our alert status has increased from Alert since a few months ago just to a radius of 8 to 10 km peak of Mount Agung, beyond that Bali is safe, there is no status whatsoever. The status of Beware is, I repeat, only radius 8 to 10 km from the crater of Mount Agung, the rest of Bali is safe," said Jonan.
To prove this, Minister Jonan revealed that President Jokowi will hold a limited meeting in Bali at the turn of the year.
"To prove Bali is safe, and the status of Gunung Agung does not affect the whole of Bali, Mr. President will conduct a Limited Meeting in Bali and later in the New Year, from the 30th to the 1st, I will return here to take my family for a vacation in Bali, there is a problem and this is not my own wong response want to vacation here," continued Jonan.
Although generally safe in Bali, Jonan still asks the Central and Regional Government and stakeholders to remain alert to volcanic activity of Mount Agung. "We, the Central Government, as well as the Local Government and stakeholders must remain vigilant because although many tools are installed, we cannot know exactly because it is subject to the status of Awas for a radius of 8 to 10 Km from the crater," said Jonan.
Gunung Agung lies in the geographical location of 115.5080 east longitude and 08.3420 LS. Administratively included into Karangasem regency or about 60 km from Denpasar Bali. To monitor the volcanic activity of Gunung Agung, the Ministry of ESDM through the Center of Volcanology and Geological Hazard Mitigation, Geological Agency built the Gunung Agung Observation Post (Pos PGA) located in Rendang Village, Rendang District, Karangasem Regency about 12 km from the summit of Mount Agung crater.
Currently PGA Post is equipped with equipment according to volcano observation standards that is, 2 units of CCTV that works for visual, 11 sets of stations in Mount Agung and 4 sets of stations in Mount Batur to find seismic data, 5 sets of GPS and 3 sets of Tiltmeter on Mount Supreme to know the data deformation and 2 temperature sensors to know the geochemical data.