Knowing the Sunyaragi Caves Historic Site in Cirebon City
By : Chodijah Febriyani And Aldi Firhand A | Sunday, December 24 2017 - 23:45 IWST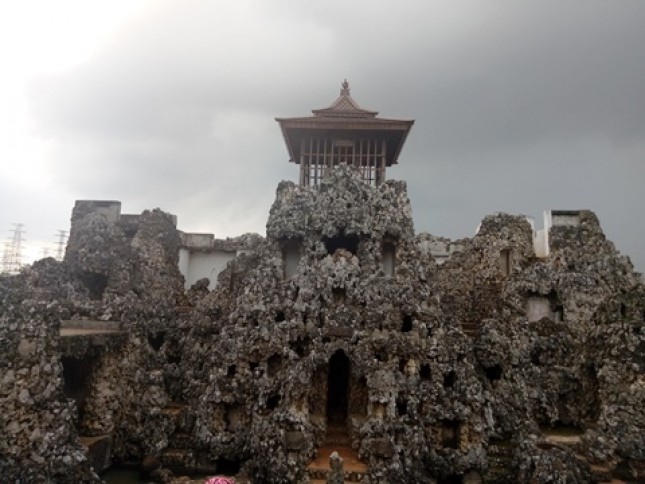 Knowing the Sunyaragi Cave's Historic Site in Cirebon (Photo Dije)
INDUSTRY.co.id - Cirebon- Cirebon, is a city that has a variety of historical stories, customs and cultures are thick, has an interesting tourist destinations, as well as culinary legendary and delicious. One of them is the legendary historical tourism in the Sunyaragi Cave, Cirebon, West Java.
Located in Sunyaragi Village, Kesambi, Cirebon City where there is a temple-like structure called Sunyaragi Cave or Water Park Sunyaragi or commonly called Tamansari Sunyaragi.
Together with the Tourism Ministry and Tourism Journalist Forum, the Industry.co.id team had the opportunity to visit the Sunyaragi Cave.
Entering Sunyaragi Cave area, we are all greeted with stage-like buildings for art performances.
"This is an additional building, it is on the initiative of the people of Cirebon who have money at that time. They make a foundation called Sunyaragi Cultural Foundation. The construction is similar to the stage, which is like in Prambanan, and this stage is from Arga Jumut Cave , "The Story of Jajat Sudrajat, Head of Buan Wiasata Cave Sunyaragi Guides in Cirebon, West Java, Friday (22/12/2017).
The Sunyaragi Cave has 11 caves in it. However, some still do not know how the Sunyaragi Cave was founded. According to Jajat, there are three phases of development.
"So, Sunyaragi Cave, was first built when in 1596 at the time of the first Sultan Cirebon at the time of the Duke of Zainal Arifin, then the second phase, in the year 1703 when it was the ruler of Cirebon that is Prince Adipati Arya Cirebon," Jajat Explained.
The last stage, continued Jajat is the phase of refinement made in 1783 until 1788 when the reign of the fifth Sultan of the King Prince Duke Safiudin or better known Sultan Matangaji.
Another name of Sunyaragi Cave Water Park is Kapanyren Panyepi Ing Raga Park, which means a place to purify yourself and the soul.
"In the past, the actual construction of this Sunyaragi Cave as a substitute of Kaputren Park in Mount Sembung is used as the tomb of Sunan Gunung Jati," he continued.
Known, the name Sunyaragi Cave Water Park actually used to be the park with the daughter of Cirebon sultanate.
"Then Seara Segara Ampara Jati, because this area a lot of water and surrounding by teak forests," he added Jajat.
Known, the architect who built Sunyaragi Cave that is Raden Sepat from Demak Kingdom. In the past, this area is a great estuary and river at the time of Indra Prahasata which became bathing place of Gangga Indra Prahasta kingdom.