Pfizer Supports Health Workers Through the Educare Program
By : Chodijah Febriyani And Aldo Bella Putra | Wednesday, December 27 2017 - 16:00 IWST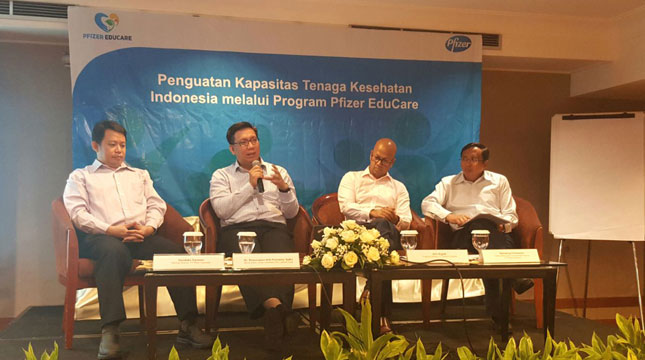 Pfizer Dukung Tenaga Kerja Kesehatan Melalui Program Educare
INDUSTRY.co.id - Jakarta - Pfizer has appreciated the significant progress that the National Health Insurance System (JKN) has made in the last four years has changed the landscape and development of the health sector as well as contributing to the national economy and access to wider healthcare for Indonesians.
Pfizer will continue to work with the Government and relevant stakeholders to help improve the quality of the health sector through various scientific education and skills development programs for doctors and health workers. Thus it is expected that health services for patients in Indonesia can run better.
"Pfizer is committed to continuing to contribute to the development of the health sector, continuing to share the latest innovations in treatment therapies, research development and enhancement of capabilities for the health community in Indonesia," said Anil Argilla, President Director of PT Pfizer Indonesia.
Pfizer has been serving patients in Indonesia for nearly fifty years and so far the scientific education and professional skills development programs known as Pfizer EduCare have been recognized by Indonesian healthcare professionals. This program is designed to improve the technical skills and soft-skill of health workers such as general practitioners, specialists and pharmacists. Over the past two years, EduCare program has reached more than 13 thousand health workers in Indonesia. Participants received training in leadership, hospital management and capacity-building programs for pharmacists.
"Pfizer recognizes the importance of scientific education and the continuous transfer of technology on international best practices and health technologies to help transform the health sector through EduCare program we hope to increase the capacity of health workers in Indonesia," said Anil.
In October this year, for example, Pfizer in collaboration with the American College of Cardiology (ACC) and the Indonesian Association of Cardiologist Specialists (PERKI) conducted training for more than one thousand cardiologists, specialists and physicians on the latest developments in patient prevention and care heart disease.
"Pfizer has demonstrated how international pharmaceutical companies collaborate and support medical professional organizations. This collaboration is very meaningful for professional healthcare providers and, more importantly, to help joint efforts in building a sustainable healthcare system that focuses on the interests of patients," said Dr. Dharmawan Ardi Purnama, SpKJ, chairman of the Indonesian Doctors Association (IDI) North Jakarta.
"Through Pfizer EduCare, doctors can improve their ability in preventative measures as well as treatment solutions, and patients will have more options to improve their health," said Dr. Dharmawan.
In addition to scientific education and medical professional development programs for doctors and health workers, Pfizer also invests significantly in the development of its production facilities infrastructure. Since its first development in Indonesia in 1971, the company has made six expansions at its production facility, at its plant located on Jalan Raya Bogor, East Jakarta. The last expansion was carried out in 2013 with an investment of Rp 40 billion.
In Indonesia, Pfizer produces and exports the products of tablets, capsules and ointments with various brands to South Korea, Malaysia, Singapore, Thailand, Philippines, Vietnam, Brunei, and Hong Kong. Pfizer also produces aseptic liquids and sterile bags, and has primary and secondary packaging facilities for both export and domestic markets. In 2017, Pfizer recorded a total export volume of more than 7 million US dollars.