Let the Peace of Christ Reign In Your Heart, The Christmas Theme With The Journalist Network Of Christ
By : Herry Barus And Aldo Bella Putra | Monday, January 01 2018 - 20:30 IWST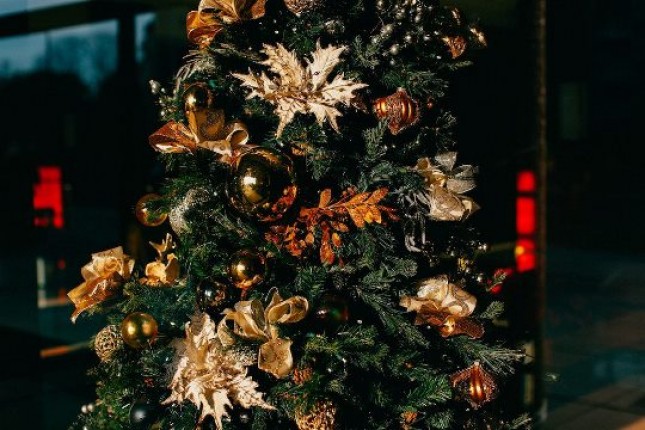 Ilustrasi Pohon Natal (Dok Industry.co.id)
INDUSTRY.co.id - Jakarta - Network of Journalists Christ will hold a partnership of Christmas and New Year 2018. With the theme: Let the Peace of Christ Reign In Your Heart. "
In his release, which was shared by Dar Edi Yoga, Rmol's senior journalist that the event became a gathering place for "Witnesses of Christ" to continue to be a blessing to others.
Subtema, Evangelizing Information That Does Not Mislead Many People.
The joy of Christmas and the celebration of the New Year 2018, conducted online media people, print, TV, radio located in Jabotabek.
Media crews, who seek to become the light of the world, unite; intertwine hooks, gather and fellowship in the love of Christ.
Implemented on Wednesday, January 17, 2018, it held at Conference Room 36th floor of Siloam Hospital, Semanggi Jakarta at 17.00-20.00 WIB.
It is a celebration that involves cross-organization and crashing organizational boundaries. The committees are initiated by journalists who are members of the Media Association of Indonesia, Siber Media Union, PWI, AJI, IJTI and various other journalist or journalist organizations.
"Media people from anywhere, regardless of which tribe or organization," said Jopi, from Kompas TV. In essence, "Christmas Committee Network of Journalists Christ is trying to glorify Jesus Christ. Let the name be exalted and glorified."
Dar Edi Yoga, who is the Chairman of the Organizing of Christmas and New Year 2018 is called, the event is not applied in luxury. However, it is luxurious in the Lord and done with great joy, that the "Savior of the World" has come.
"Jesus Christ who is a child of God in Heaven, has been born to atone for our sins," said Yoga, the leader of RMOL. That is, it is not a ceremonial activity without meaning, but the arena of the union of those who profess to believe in Jesus Christ.
Through the celebration of Christmas and giving thanks in the New Year 2018, is strengthening the bonds of love among fellow Christian journalists. "The organizers of journalists, but the joy of christmas for all, including resource persons can also be present," said S. Budi Rahardjo, CEO of MATRA Executive and MEDRA Magazine.
To that end, the committee invites all parties to attend, in addition to worship together; hoping human journalists of Christ can continue to spread love to others.
The Journalist Network of Christ becomes networking.
Release any partition of the organization, so it becomes a joint activity. Then, the form of togetherness can also be a place to share, where journalists can also spread love and become a witness of Christ. Not just commemorating the birth of Jesus Christ.