Proving Existence, Iis Dahlia Launch New Album
By : Aldi Firhand Alqudri | Wednesday, July 26 2017 - 22:15 IWST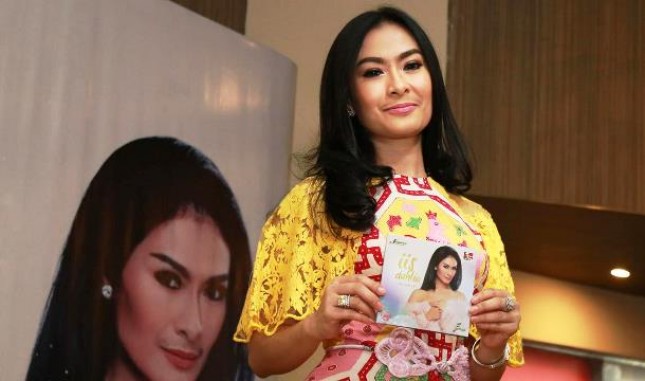 Iis Dahlia
INDUSTRY.co.id - is Dahlia's name as a singer, of course everyone knows her. Especially for the last 3 years Iis Dahlia almost every day appear as a dangdut contest judge at Indosiar station. However it has not shown its existence as a dangdut singer. That's why Iis Dahlia recently launched her newest album entitled "The Best Of Iis Dahlia".
"This album is indeed proof that I still remain as a singer. Not only appear but also have to give something new for dangdut music fans, "said Iis Dahlia during the launch of her latest album at the restaurant KFC Kemang.
Iis tells that many people question whether he only appears as a jury just to be considered exist as a senior dangdut singer. "And so the jury is also the context remains a matter of singing. But apparently that is not enough. I have to answer it by releasing the latest album, "she said.
For singers born in Indramayu, West Java, in addition to proof of existence, her latest album is also proof that she still deserves to be called as one of dangdut icon homeland. Imagine, because in this abum Iis offers a wide range of dangdut music. "From classic dangdut, koplo, Malay to Indian model also exist," she added.
In the span of her career that passed through 3 decades or 30 years, Iis Dahlia had already brought all versions of dangdut songs. Coupled with her collaboration with a number of non dangdut musicians enriched Iis Dahlia mastered the technique of singing. "Basically I do not want to be called just as a dangdut singer but as a singer who can bring all kinds of music. But because the title as a dangdut singer has been attached since the first, yes I have received. But if asked to bring another kind of song I am ready, "said Iis who once collaborated with this Purple Group.
Album produced by Hadi Sunyoto who is one of the senior record producers will be circulated by PT Jagonya Musik Sport Indonesia (JMSI) through KFC restaurant chain that exist throughout Indonesia. About this, Rumy Azis from JMSI said that since the distribution of songs through this chicken fried restaurant chain, including effective to increase album sales. "Since its release in early July, Iis Dahlia's album has sold over 70,000 copies. It's a good number for dangdut albums, "he said.
While Hadi Sunyoto as producer said that he was convinced that the album The Best Of iis Dahlia will be well received by fans and music lovers Dangdut. "Because in addition to the new songs in this album also there are old songs like Guest Unbidden, Disappointed, Seroja and Black Umbrella which is identical with Iis Dahlia," said Hadi Sunyoto.
So unfortunately if Iis Dahlia fans and Dangdut fans do not have this album