Kalibata City Parking Payments System Disapproves Customers
By : Abraham Sihombing And Aldo Bella Putra | Saturday, January 06 2018 - 21:00 IWST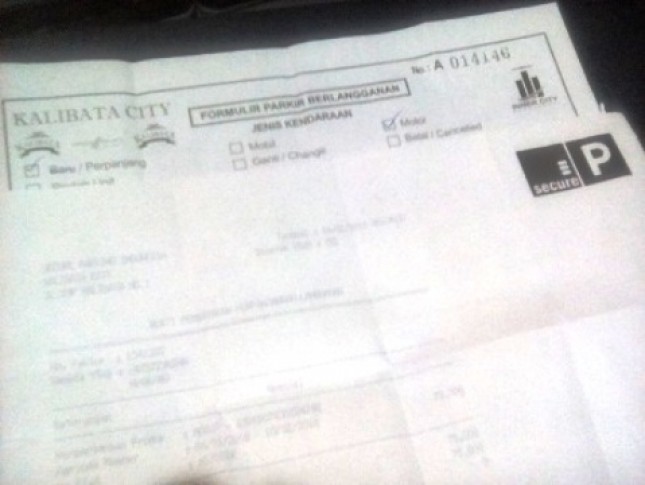 Dua lembar kertas yang menjadi bukti ketidakpraktisan bertransaksi di Secure Parking Kalibata City. Foto Abe
INDUSTRY.co.id - Jakarta - Middle-aged man looks confused in front of Secure Parking counter when paying a monthly parking subscription in Kalibata City Jakarta apartment area.
The reason, the man who has been queuing for quite a long time asked the counter officer to request blank from the Kalibata City first, namely Customer Service, before they can pay the obligation to extend parking subscriptions.
The man turned out to be one of the residents of a few thousand residents of Kalibata City apartment. When asked if he knew about such a parking subscription payment procedure before, the man claimed he had known this morning about the new procedure.
"Usually, I pay directly at the counter payment, sir. Last month alone, I can still pay directly to the counter officer. I just found out this morning there is a procedure like this, "said the man told Industry.co.id in Kalibata City, Jakarta, Saturday (06/01/2018).
The man revealed, such procedures are troubling the owners of motor vehicles that inhabit the apartment Kalibata City. The reason, they are required to queue up again in front of the counter payment if it has got blank Kalibata City.
"Time, we want to spend money; we are made difficult like this. Though now the scriptless transaction time (without the script), but Kalibata City and Secure Parking instead set procedures that wordy. In addition, Kalibata City and Secure Parking also do not socialize for this procedure, "said the man.
When asked to Kalibata City, Arie who served as Chief Customer Service Kalibata City in the Customer Service Room of Jasmine Tower on Saturday (06/01/2018) argued, the socialization has been done since October 2017.
"We do not know whether the socialization has also been done by the Secure Parking to customers or not. Such a system is enforced because Secure Parking itself is asked to the manager Kalibata City," said Arie.
According to industry.co.id observations, it turns out that in front of the Secure Parking counter located at Basement 2 (level B2) of Kalibata City apartment there is no socialization in question, but only listed on a piece of paper dated December 28, 2017.
According to middle-aged men, officers Secure Parking confirmed the manager Kalibata City who want the implementation of payment system like this.
"Both parties, which one is really talking?," added the man. (Abraham Sihombing)