Indosat Ooredoo Cares for Education in Remote Areas
By : Aldo Bella Putra | Friday, July 28 2017 - 17:50 IWST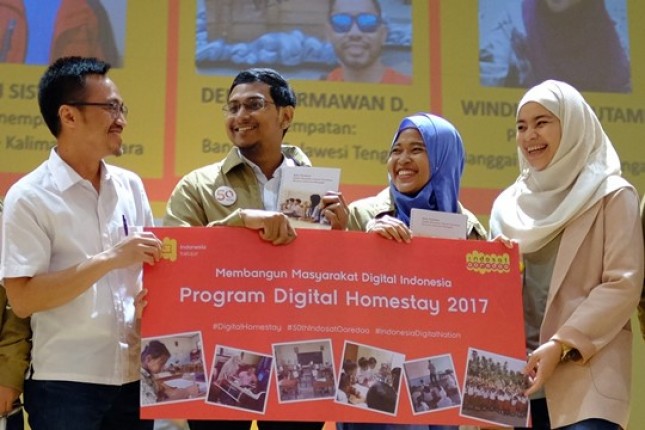 5166
INDUSTRY.co.id - Jakarta- Indosat Ooredoo today released its 2017 Digital Homestay volunteers to five remote areas, as part of its Corporate Social Responsibility program, particularly the education pillar, in collaboration with the Teachers Young program from Indonesia Mengajar.
As a company concerned with the education and future of Indonesia's young generation and as an internal engagement program, Indosat Ooredoo wants to provide an opportunity for employees to know the conditions of education in the region and interact directly with the community and carry out activities in an effort to advance education in remote areas. This activity is the second activity after last year.
The volunteer employees of the program will be sent to North Aceh, Natuna (Riau Islands), Nunukan (North Kalimantan), Banggai (Central Sulawesi), and Pegunungan Bintang (Papua). For a week they will stay in the community house and then interact with the community with various activities that support the Youth Teachers program.
"Every Indonesian citizen has the same right to education, regardless of where they are located, because education is one of the keys to Indonesia's future. Indosat Ooredoo is committed to actively promoting education in the country, and this Digital Homestay program is part of the realization of that commitment, especially education for remote areas of the country," said Deva Rachman, Group Head of Corporate Communications Indosat Ooredoo.
The nine employees who joined the Digital Homestay program this year will leave for their respective locations on July 29, 2017. Volunteers have been through a briefing process that includes preparation of departures, regional introductions, activities in the region, safety and safety guides, teaching preparation, technical Teaching, teaching structure, material delivery methods, classroom management tips, and teaching practice experiments.
After the volunteers return to Jakarta, a reflection session will be held as a conclusion of this series of activities. In this session the volunteers will share the experience and inspiration they get, as the provision of this program furthermore and the foundation of Indosat Ooredoo education activities in general.
Then in November 2017 Indosat Ooredoo will again dispatch volunteers in the second part of the 2017 Digital Homestay program, to a location to be determined later. The volunteers in this second section consist of the Chief and members of the Board of Directors, who have also gone through the selection stage.
"Giving an example is a part of human resource development, and we at Indosat Ooredoo encourage the leaders of these companies to participate in this activity," Deva added. "Indosat Ooredoo's expectation from the implementation of this activity is the growing concern for each other to strengthen the spirit of Bhinneka Tunggal Ika that has been instilled by the founders of the Republic of Indonesia."