Teach Islam Moderate Pesantren Nuu Waar Supported Saudi Arabia
By : Wiyanto And Aldo Bella Putra | Sunday, January 21 2018 - 17:00 IWST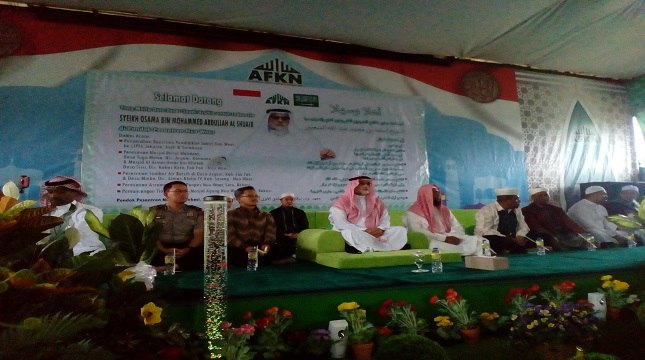 Dubes Saudi Syekh Osama dan Pimpinan Pesantren Nuu Waar Ustadz Fadlan
INDUSTRY.co.id - Bekasi- Kingdom of Saudi Arabia supports all Islamic boarding schools that teach moderate Islam. One of the pesantren that is considered moderate is Pesantren Nuu Waar. All santri in this place the majority come from Papua.
Ambassador of the Kingdom of Saudi Arabia, Osama bin Mohammed Abdullah Al Shuaib explained over the moderate Islamic teachings in this pesantren, his side pay attention to this pesantren.
"I say, Kingdom Kingdom supports Islamic Institutions that develop moderation. The Kingdom does not support anti-moderate community institutions that promote hate. We support the Islamic Foundation, which puts forward moderation, " he said in Bekasi, Saturday (20/1/2018).
Therefore, he opened himself to this pesantren, especially the santri who will continue his study to the campus of Saudi Arabia located in Indonesia. The campus is LIPIA in Sumatra and Java Island, especially Jakarta and Surabaya.
Saudi Arabia invites santri Nuu Waar to enter LIPA in Surabaya 29 people, Jakarta 6 people and 15 people in Aceh. The entire santri received at LIPA is evidence of Royal consistency.
In addition to santri received at LIPIA, Osama appreciated the leader of Nuu Waar Pesantren, Ustadz Fadlan Garamathan, he dubbed the Papuan original son with the nickname of a black horse from Papua.
Ustadz Fadlan Garamathan, Leader of the Nuu Waar Pesantren mentioned the presence of the Saudi Arabian Ambassador brings blessings to the students and themselves. : I appreciate Osama's shaykh who has given Papua access in LIPIA.
On this occasion, Ustadz asked Syekh Osama to inaugurate the five-story mosque. Funding for the construction of this mosque involves donors from Saudi Arabia and local donors. "This is the first mosque in our village," he said.