This Causes the Collapse of Indonesia Stock Exchange Building Roof
By : Herry Barus And Aldo Bella Putra | Monday, January 22 2018 - 14:00 IWST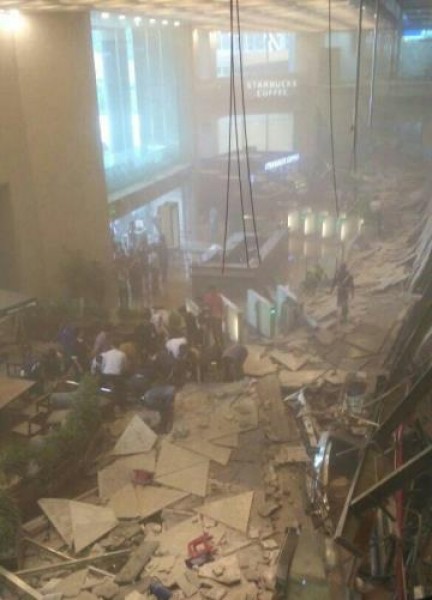 Kanopi Atap Bedung Bursa Indonesia Rubuh (Foto Ist)
INDUSTRY.co.id - Jakarta - Secretary General of Indonesian Construction Contractor Association (Gapensi) Andi Rukman Karumpa revealed the cause of the collapse of BEI building roof that occurred some time ago.
He explained, the lack of specifications of buildings that cause construction failure is suspected to be the cause.
"There could be a lack of specifications or violate the specifications that caused the failure of the building to be one cause," said Secretary General Andi Rukman Karumpa in Jakarta, Tuesday (16/1/2018).
The construction of the hall in every building, he said, is hanging without any foundation or pole underneath, so it needs solid iron concrete both as a floor and binder to the roof.
"If we look at the video there is a point where the building is not solid. So it collapsed until it was so bad. Although I do not want to assume too early yes," he said.
In fact, continued Andi, hallways should be able to accommodate the burden with the number of students who were visiting at that time, considering all women with an average weight of 70 kilograms.
According to him, the estimated 20-year-old building age should still be in good condition, because after construction, similar buildings can be aged up to 50 years.
Andi also conveyed another possible cause of earthquake shocks in Jakarta with forces below the 5 Richter scale, which might shift the construction.
"It's not big, but there could be a shifting construction," he told media crew in Jakarta.
Some things to consider in the construction of the hall or building according to Andi is to meet the required specifications.
"Do not for example the need of iron concrete 10 meters, but because it would be cheap, so wear a 7 meter. The key must pay attention to specifications," said Andi.
In addition, it is necessary to check construction for a period of five years to ensure the strength and robustness of the post-development building.