Liven up National Press Day, West Sumatra Provincial Government Holds Minangkabau Marathon
By : Dina Astria And Aldo Bella Putra | Friday, February 02 2018 - 17:00 IWST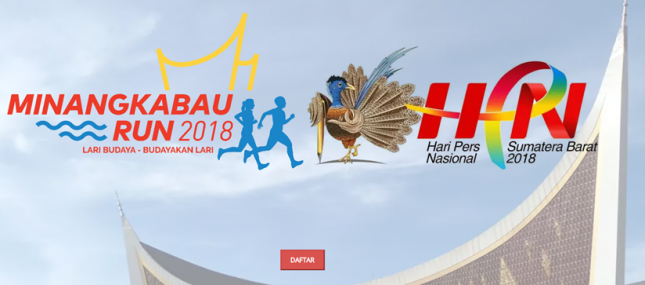 Minangkabau Run untuk Hari Pers Nasional 2018. (Foto: Minangkabausumit)
INDUSTRY.co.id - Minangkabau - Padang City in West Sumatra welcomes the 2018 National Press (HPN) with full of joy and so festive. Peak HPN 2018 will be held on February 9, 2018. West Sumatera 2018 HPN theme "Wins of Beauty in the Field of Welfare".
HPN is an annual event organized by the national press community consisting of Press Council, Indonesian Journalist Association (PWI), Newspaper Publishers Union (SPS), Private Television Association of Indonesia (ATVSI), Indonesian Local Television Association (ATVLI), National Private Radio Association Indonesia (PRSSNI), Persatuan Perusahaan Periklanan Indonesia (PPPI), Siber Indonesia Media Union (SMSI).
One of the highlights of ongoing activities of HPN 2018 is the Art and Creative Industries Exhibition, Opening of local Wisdom and Cultural Heritage Exhibition and Minangkabau Press Exhibition. The exhibition will take place from 1-9 February 2018 at the Art Gallery of Taman Budaya, Padang.
On Saturday morning (3/2) in the yard of West Sumatera Governor Office there will be mass gymnastics, casual bike and doorprice. This activity starts at 6.00 am.
The excitement will continue tomorrow, Sunday (4/2), where wills Minangkabau Marathon activity with start at GOR H Agus Salim. As for the people who want a leisurely paginhari walk there is also a leisurely stroll that starts from the Governor's office yard on the same day.
Maximizing the preparation and festivity of the event, West Sumatera Provincial Health Office alerted the P3K Team from 1-9 February GOR H. Agus Salim and the Governor's Office Page.
The series of HPN events will also feature parallel conventions and seminars on the development of mass media the day before the summit event, including a mass gathering of the Indonesian Journalists Association (IKWI) and social work.
Likewise with the traditional party mat Dinner Bajamba at the same time granting Adinegoro award on February 8 and the peak of the 2018 HPN event on February 9, 2018. Both of these activities are scheduled to be attended by President Joko Widodo.