Integrated Health Team at Asmat Receive Six Measles Patients
By : Herry Barus And Aldo Bella Putra | Sunday, February 04 2018 - 17:00 IWST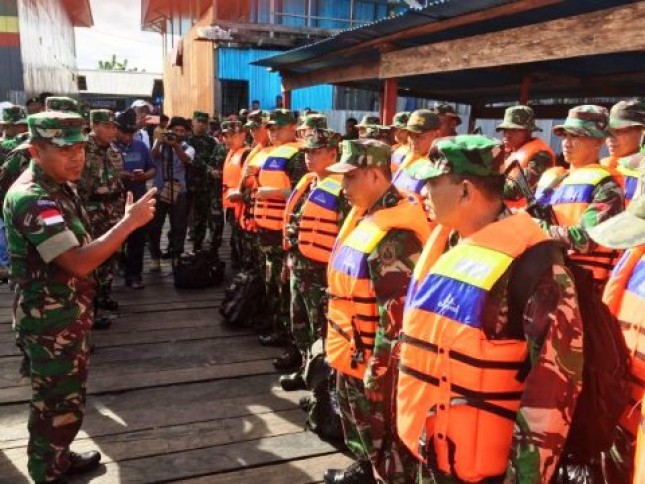 Satgas Kesehatan TNI Bantu KLB Asmat, Papua (Foto: Puspen TNI )
INDUSTRY.co.id - Timika - Integrated Health Teams handling malnutrition and measles problems in Asmat District, Papua, received six new patients with measles and anemia to undergo treatment at Asmat Hospital in Agats City, Saturday (3/2/2018).
Head of Police Public Relations of Papua Police Commissioner AM Kamal in Timika, Saturday, said based on a report from the Integrated Health Team at Asmat, the six new patients were all under the age of five.
"There were six patients coming from the district (kecamatan), four people were attacked by measles and two people had anemia, they were handled by the officers as soon as they arrived at Agats," Kombes Kamal explained.
Until this Saturday, Asmat hospitals still care for 25 patients, consisting of four patients of measles cases, 19 apatients' malnutrition cases and two patients of anemia.
Four patients previously treated at Asmat Hospital are now allowed to return to their homes in Jetsy District, Atsj District, Agats District and Fayit District.
From September 2017 to 3 February 2018, the Integrated Health Team provided vaccinations to 17,238 patients, measles treatment to 651 patients, severe malnutrition cases to 223 patients, measles and malnutrition complications of 11 patients and measles suspects of 25 patients.
Integrated Health Team which is a combination of various agencies such as Polri, TNI, Ministry of Health, Asmat and other regencies have also been providing services to the community spread over 213 villages in 23 districts.
During the period of September 2017 to January 2018, the death toll from epidemic measles and malnutrition in Asmat recorded 72 people.
Most of the deaths were found in Pulau Tiga District, which reached 37 people, namely Kampung As eight children, Kampung Atat as many as 23 children, Kampung Kapi two children and Kampung Nakai four children.
Most of the deaths were also found in Fayit District as many as 15 people in Isar Village one child, Kampung Nanai one child, Kampung Pirien 12 children died and Kampung Ocenep one child.
In Aswi District found eight children died in Kampong Bawos five children, and Kampung Tauro three children.
While in the District Akat there are four children died and the victim died after being treated in Asmat General Hospital as many as eight people.
Until now the Integrated Health Teams are divided into several districts, namely Fayit District, Kolf Braza District, Unir Sirau District, Joerat District, Ayip District, Joutu District, Unir Sirau District. (Ant)