This is 6 Goods That K-Pop Lovers Must Have K-Pop Lovers
By : Hariyanto And Aldi Firhand. A | Sunday, February 04 2018 - 22:52 IWST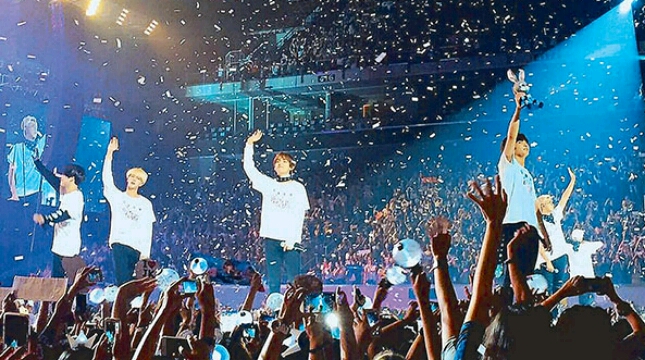 BTS Concert
INDUSTRY.co.id - Jakarta - Annyeonghaseyo! Currently, Korean Pop or K-pop is worldwide, especially for young people in Indonesia. Who is your favorite k-pop group? EXO? Red Velvet? BTS? Twice? Or like a soloist? IU? Lee Hi? Or Eddy Kim? Whoever your favorite artist, if you love the music of this South Korean country you certainly have a tendency to collect your favorite idol items.
But what if you are still a newbie into the world of oppa and eonni? Confused what should be or want to be purchased to complete your collection? Here are 6 items required for K-Pop lovers:
1. Album
First and foremost, album is a must! Whether it's a mini album or a full album and even a repackaged album, this is the first thing you should think about to add to your collection. The main attraction of Kpop album, in addition to you get your favorite CD idol, there is also a PC or photo card and a booklet that contains a collection of photos of your favorite idol. Profitable, is not it?
2. Magazines
Yup! Magazines are also one of the things that can add to your favorite idol collection. Although your favorite oppa and eonni will not decorate the pages of the magazine, but 15-20 pages of pictorial plus interviews from them are more than enough, right?
3. DVD
Whether it's a favorite drama DVD or a reality show, DVDs are also things to consider for collection. Watch Yoo Jaalam's excitement from Running Man or watch Jong Seok's brilliant action in the drama While You Were Sleeping!
4. Accessories
Collecting accessories from favorite idols? Why not? Starting from Jersey, bags, headbands to cutlery, all you can make a collection of choices.
5. Light stick
Coming to watch a favorite idol concert must be one of the wishlist for all Kpop fans. Being a concert hunter certainly has fun and pride itself, because we can watch the oppa or eonni darling in person while enjoying favorite songs. Well, the light stick is definitely a must for you. Let's be the part of the ocean!
6. Concert Merchandise
What else should be bought by the concert hunter when attending their favorite idol concert? Concert merch, of course! Starting from the hand banner, towel and even tote bag special theme of Shopeeholics favorite idol concert can be the right choice.
Already know what your favorite K-Pop stuff is? You can find these items in an online store like Shopee by searching the "Favorite Items for K-Pop Lovers" page.