Vice Governor of West Sumatra: If Only One Person to Padang City, That Is Failure For Us
By : Dina Astria And Aldo Bella Putra | Tuesday, February 06 2018 - 18:00 IWST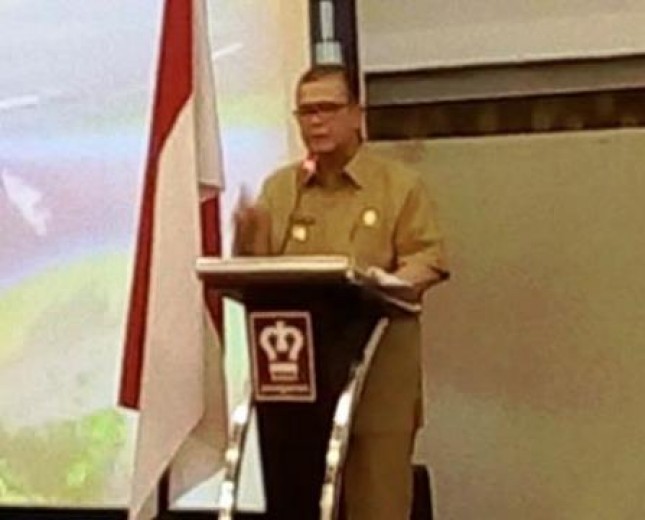 Wakil Gubernur Sumatera Barat, Nasrul Abit (Foto Dok Industry.co.id)
INDUSTRY.co.id - Padang - Vice Governor of West Sumatra, Nasrul Abit implementation of the National Press Day (HPN) 2018 in Padang City must be a branding event or the introduction of tourism selling value throughout West Sumatera.
"If we talk about what is West Sumatra, we do not have anything, only tourism is our potential, there is PT Semen which is already big and people know," said Nasrul in Branding Seminar "Strong Branding Strategy for Prosperous Prosperous" Pangeran Beach Hotel, Padang City, Tuesday (6/1/2018).
Nasrul said that the West Sumatra tourism trend is in a state of uphill. One of the parameters mentioned is the number of aircraft flights to the city of Padang significant increase.
"It used to be a plane to Padang there are 26 aircraft, but now it has continued to grow with 82 aircraft to Padang every day," he explained.
Nasrul acknowledged that the implementation of HPN 2018 which will become a meeting of media people all over Indonesia will bring its own blessings for West Sumatera. For that, he invited the people of West Sumatra to succeed HPN and give the best impression on the participants who come.
"It's a thousand people coming to West Sumatra, how they can come back here, and if people come to Padang City once, it's a failure for us," Nasrul said.
The same thing was also conveyed by Head of PWI Organization Center, Sasongko Tedjo. For him, in addition to carrying out the main event, HPN which is held annually in different provinces also brings a special mission to provide benefits for the host.
"HPN in addition to implementing two main events namely the convention and the top ceremony attended by the President, we want to give progress to the potential that exists in the provinces in Indonesia and this time in West Sumatra," said Sasongko.
With the theme "Wins of Beauty in the Welfare Field", the series of events Sumal 201N HPN will be filled with parallel conventions and seminars on the development of mass media a day before the peak event. Including the mass gathering of the Indonesian Journalist Family Association (IKWI) and social work.
Likewise with the traditional party mat Dinner Bajamba at the same time granting Adinegoro award on February 8 and the peak of the 2018 HPN event on February 9, 2018. Both of these activities are scheduled to be attended by President Joko Widodo.
HPN is an annual event organized by the national press community consisting of Press Council, Indonesian Journalist Association (PWI), Newspaper Publishers Union (SPS), Private Television Association of Indonesia (ATVSI), Indonesian Local Television Association (ATVLI), National Private Radio Association Indonesia (PRSSNI), Persatuan Perusahaan Periklanan Indonesia (PPPI), Siber Indonesia Media Union (SMSI).