For the First Time, GAIKINDO Held a Commercial Vehicle Exhibition
By : Ridwan And Aldi Firhand. A | Tuesday, February 06 2018 - 21:13 IWST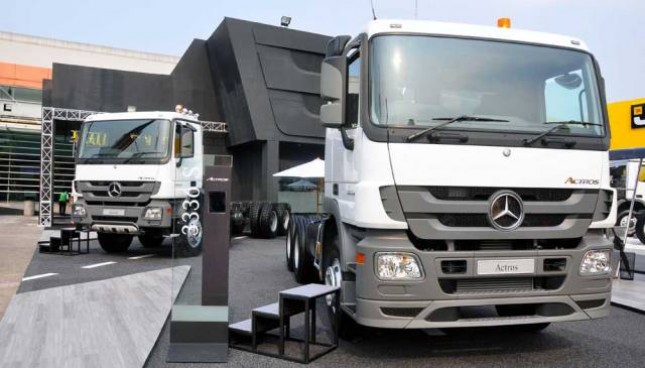 GAIKINDO Indonesia International Commercial Vehicle Expo (GIICOMVEC) 2018, which will take place on 1- 4 March 2018, at the Jakarta Convention Center (JCC)
INDUSTRY.co.id - Jakarta, Indonesia Automotive Industry Association (GAIKINDO) will hold a special automotive commercial vehicle exhibition, Gaikindo International Vehicle Expo (GIICOMVEC) 2018.

A Business to Business (B to B) exhibition, GIICOMVEC 2018 which will run on March 1-4, 2018 at the Jakarta Convention Center (JCC) is scheduled to be opened directly by Minister of Industry, Airlangga Hartanto.
The inaugural GIICOMVEC 2018 event will be supported by renowned brand holder agents such as Daihatsu, DFSK, Hino, Isuzu, Iveco, MAB (Mobil Anak Bangsa), Mercedes-Benz, Mitsubishi, Fuso, Mitsubishi Motors, Suzuki, UD Truck, United Tractors, Toyota, and Volvo.
GAIKINDO Chairman Yohanes Nangoi said the presence of superior products from commercial vehicle brands in GIICOMVEC 2017 is expected to further boost the growth of the commercial vehicle industry, where sales of trucks and double cabin in 2017 increased by 45 percent from 2016.
According to Yohanes Nangoi, the APM has shown its consistency in developing commercial vehicle business.
"The commercial vehicle Apm has done various innovations to continuously improve the quality of the vehicles produced," the growing development of infrastructure projects, logistics productivity, distribution and trade in Indonesia, encouraging commercial vehicle manufacturers to continue to be motivated and meet the needs of commercial vehicle consumers. John Nangoi during a press conference in Jakarta, Tuesday (6/1/2018).
Nangoi also stated that GAIKINDO specifically designed GIICOMVEC 2018 as a business to business exhibition that will feature the latest innovations from commercial vehicle manufacturers.
The high demand for APM commercial vehicles in Indonesia to continue to innovate, and exhibition B to B GIICOMVEC 2018 will be a perfect event for the APM commercial vehicles in Indonesia to introduce a variety of new technologies and products that can further support the development of the industry and facilitate business consumer.
Meanwhile, Ridwan Alamsjah as chairman III GAIKINDO who oversees the Field of Exhibition said that the implementation of GIICOMVEC 2018 premiere will be a launching event for no less than 6 new commercial vehicle types of exhibitors.
"It is a pride for us, that various brands of commercial vehicles in Indonesia officially declare to launch and introduce the latest products and technologies at the 2018 GIICOMVEC exhibition," he said.
Six commercial vehicle brands, Isuzu, Iveco, Mercedes-Benz, Suzuki, and Volvo will launch a new type of commercial vehicle, as well as Mitsubishi Fuso which will pre-launch its newest vehicle at GIICOMVEC 2018.
"Scheduled GIICOMVEC 2018 as a commercial vehicle launching stage proves the existence of commercial vehicles in Indonesia that tips increase," said Rizwan.
In addition to commercial vehicles, GIICOMVEC 2018 will also be followed by related supporting industries ranging from home industry such as Adiputro, Laksana, Shinmei, Sugity Creatives, and other supporting industries such as ADR Group, Alcoa wheel, Astra Otoparts, BG Product, Dunlop, Esmak Makine , Evalube, Single Elephant, Goodyear, Himawan Putra, Pro7 Auto Lighting and others.
"Hopefully, through the event GIICOMVEC 2018 can sales of commercial vehicles in Indonesia," Rizwan closed.