Minister Jonan Inaugurates 10.101 Jargas Houses Connection in Mojokerto
By : Hariyanto And Aldo Bella Putra | Friday, February 09 2018 - 19:00 IWST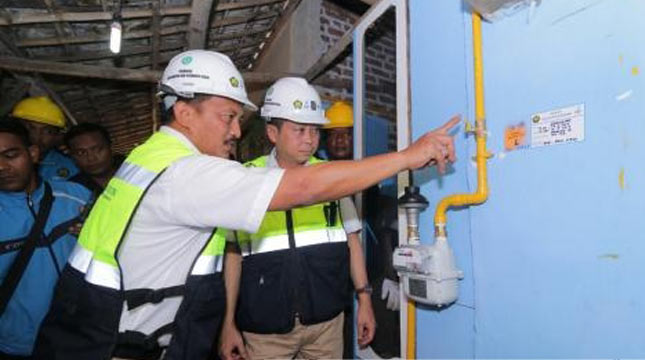 Menteri ESDM Ignasius Jonan meninjau Pembangungan Jaringan Gas
INDUSTRY.co.id - Mojokerto - Minister of Energy and Mineral Resources Ignasius Jonan inaugurated the 10.101 Household Connection (SR) of the Natural Gas Distribution Network (Jargas) of the Mojokerto City and Mojokerto District from funding of the State Budget (APBN) Year 2017.
Construction of jargas infrastructure in Mojokerto City is assigned to Perusahaan Gas Negara / PGN (Persero) while, PT Pertamina (Persero) gets mandate to build jargas in Mojokerto regency.
"Jargas in Mojokerto and Mojokerto Mojokerto is built because it is adjacent to two significant gas wells operated by CNOOC Madura Limited and Kangean Energy Indonesia, totaling Rp 86 billion for jargas in the city and regency (Mojokerto)" said Jonan in the inauguration centered in the Office District Prajurit Kulon, Mojokerto City, Friday (9/2/2018).
Also present were PGN President Director Triananda Hasjim, Pertamina Gas Director Yenni Andayani, Mojokerto Mayor Masud Yunus and Deputy Regent of Mojokerto Regency Pungkasiadi.
Jonan said the development of this jargas is a program implemented according to the direction of President Joko Widodo for equity, prioritizing the existing resources for the prosperity of the people according to the spirit of energy security.
"The government seeks to ensure that all natural resources owned by this nation and state can be used as much as possible for the people's prosperity, one of the programs is jargas in the region or in the settlements or in areas where gas or gas source is available," said Jonan.
Minister of Energy and Mineral Resources convey, with jargas it will reduce dependence on Liquefied Petroleum Gas (LPG) which some still imported.
"A year of our needs is 6.5 million tons, 4.5 million of which is still imported, although our natural gas production is 1.2 million barrel oil equivalent per day, the type produced is not C3 and C4 that can be made LPG," he explained.
Jonan advised the community to help PGN and Pertamina maintain the network and equipment so that the 0.02 bar gas pressure that reaches the houses can be consistent and maintained through the people.
Development of jargas in Mojokerto City 5.000 SR covers Kauman Sub-district (502 SR), Stop (607), Warrior Kulon (1.265), Surodinawan (1,522) and Miji (1,104). Gas supply comes from CNOCOC Husky Limited CNOCOC with an allocation of 0.25 MMSCFD.
As for Mojokerto Regency, 5,101 SR were built in Ngoro Village (1.589), Sedati Village (1.091), Kembangsari Village (904), Jasem (1.517). Gas supply comes from Kangean Energi Indonesia with an allocation of 0.25 MMSCFD. Jargas Kabupaten Mojokerto has been running the gas since January 24, 2018.
The development of Jargas by the Ministry of Energy and Mineral Resources has been conducted since 2009 using the State Budget (APBN). Until 2017, the number of SR that was built reached 235,925 SR in 15 Provinces spread over 31 districts / cities in Indonesia.
For 2018, the Government commissioned Pertamina and PGN to build and develop jargas in 16 regions. This assignment is contained in the Minister of Energy and Mineral Resources No. 267 K / 10 / MEM / 2018 and ESDM Ministerial Decree No. 268 K / 10 / MEM / 2018, dated January 25, 2018.
The 16 regions are Medan (5,000 SR), Prabumulih (6,000 SR), Musi Rawas (5,167 SR), Serang (5.043 SR), Sidoarjo (7.093 SR), Pasuruan (6,314 SR), Probolinggo (5.025 SR), Bontang 5,000 SR), Balikpapan (5,000 SR), North Penajam Paser (4.002 SR), Tarakan (4,695 SR), Bogor (5,210 SR), Deli Serdang (5,000 SR), Lhokseumawe (2,000 SR), Cirebon (3,503 SR) and Palembang (4,315 SR).
In 2017, besides Mojokerto regency, Pertamina gets assignment of jargas in Muara Enim regency, Bontang city, Penungkal Abab Lematang Ilir regency, Samarinda city, and Pekanbaru city while PGN gets assignment in Mojokerto City, Musi Banyuasin Regency, Bandar Lampung City and Kemayoran Rusun.
Jargas is built by the Government in areas with gas resources, gas supply infrastructure, and availability of users. Jargas is also able to suppress subsidies and imports of fuel. Nationally, using natural gas, the reduction of LPG imports reaches 25,500 tons per year. Government subsidy saves of Rp 178 billion per year.
In addition, the community also gains financial side benefits because the price of natural gas is cheaper than LPG. Each month, the savings can reach around Rp 50,000 per family. Other benefits, natural gas are a fuel that is environmentally friendly and available at all times. People do not need to go outside looking for LPG or kerosene and firewood, if at any time run out.