Mokasih Margiono
By : Ilham Bintang And Aldo Bella Putra | Monday, February 12 2018 - 17:00 IWST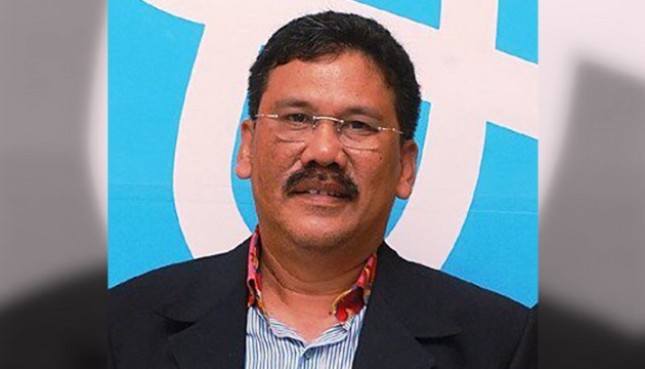 Ilham Bintang (Foto Dok Industry.co.id)
INDUSTRY.co.id - Margiono can be recorded as one of the journalists who joined the reformation to replace the New Order government through the media.
One of his journalistic works had stirred the country at the end of the New Order regime government. His D & R magazine presents a cover story about Pak Harto. Cover: picture of President Soeharto wearing king in King Card.
The action was extraordinary courageous in the midst of the New Order regime's power.
The Department of Information then canceled the magazine's SIUPP, and the D & R history was finished.
I first met Margiono when I met in PWI Jaya to discuss the case.
The more intimate after we joined the management of Tarman Azzam second priode, 2003 - 2008. Margiono is a Chairman of the Regional PWI Center.
// Willing to be corrected //
When Margiono was first elected as General Chairman of the PWI Congress in Aceh 2008, I sat as the Secretary of the Honorary Board accompanying Tarman Azzam as its chairman. Continue at PWI Congress in Banjarmasin, September 2013.
Ahead of a new priode election meeting, the ex-humble man told me he was entrusted from the majority of the PWI Branch administrators who wanted me to become Chairman of the PWI Honorary Board.
Chairman and Chairman of the Honorary Board was elected a congress that participants all members of the PWI branch.
I do not directly request the request. I asked a lot of things and we discussed together.
Also this sensitive issue: can the correspondent receive a correction if made a mistake. I remember the ancestral message from the Bugis lands: "do not partner with people you dare not fight."
Fighting here is not a physical context. Perhaps the translation in the present day, should dare to remind friends so as not to deviate while carrying the mandate. Only then can the benefits of collaboration or collaboration be achieved. Margiono agrees.
// Kiss hand//
Margiono is a fun friend indeed. Not nosy, not fussy and do not like the gossip. Humble too. He is very respectful to seniors. Do not hesitate to kiss the hands of the people he respects. When the picture circulated kissing the hands of President Susilo Bambang Yudhoyono in social media, as well as internal friends PWI had talked about him. In fact, it is common for people who are educated in the pesantren environment. Kiss hand marks of honor, not a symbol of a flogging.
In the meeting he was efficient to talk, not meticulous. He believes the reports of other chaplain friends without much chanting. Although, occasionally, he also finds facts in the field different from those reported. Margiono, on the other hand, is uncomfortable with the handful of some persons who have cursed him because the motive is different, not a tribute. In implementing the principle of professional press work, he is hard. He knows the function of the press as a tool of power control.
His "People's Freedom" newspaper was identical with Margiono's attitude and style. The headline title is distinctive, sharp but funny. I still remember the RM headline: "Megawati Bau Solar's mouth". The headline was broadcast during President Megawati's administration, to insinuate the fuel price hike.
In the early years of "Rakyat Merdeka" published by Margiono it was quite a hassle to serve the news sources that prosecuted her. As a result, the People's Newspapers Merdeka is the only media in this world which ever had eleven chief editors.
"Every day can be up to 11 cases that must be faced in the Court or call a police examination, so just lift up eleven chief editor," he said one day. But he did not complain.
One interesting event each time the celebration of HPN is to listen to his speech. No exaggeration if there is a large enough audience present in the special HPN to hear his speech only.
Without being felt this year two decades or ten years Margiono has been Chairman of PWI. The man born in Tulung Agung 58 years ago will end his tenure as Chairman of PWI in September. But because he will go forward as a candidate for Bupati in his birthplace in Pilkada contestation, then counted February 12, 2018 he is not active.
Acting Chairman of PWI has been decided in the plenary meeting of PWI. Namely: Sasongko Tedjo, Chairman of Organization. This appointment is a precedent that has taken place during the time of Chairman of PWI Harmoko. In 1983 Harmoko was appointed Minister of Information, Chief of Organization (Atang Ruswita) who succeeded him. Sasongko is a former Chief Executive of Suara Merdeka, Semarang.
// Last speech //
Speech at HPN 2018 Padang February 9 last as well as the last speech Margiono as Chairman of PWI and Responsible HPN.
Speech style when appearing on the HPN Padang is not changed, his words remain neatly delivered with style speak. He can manage up and down the emotions of his listeners. He is the mastermind. The real puppeteer who used to organize the dramatic construction of wayang stories.
However, whether it can be a trust from here, that day Margiono's speeches are full of practical political content. Spreading praise to President Jokowi. Contrary to previous critics-laden speeches to the authorities and power.
I suspect he was running out of the day. Not realizing the material of his speech distorted as if he's a successful campaigning team Jokowi became president of RI for two periods. He also invites the entire community of West Sumatra to choose Jokowi. This is obviously wasteful. Hit the sensitive Minang culture in choosing leaders. The people of Padang are known as the most democratic in the country. Not being persuaded, deceived let alone dictated. They have an expression hurting feelings insinuating "Alun takile 'alah not" meaning it has not seen has been read.
About choosing their leader enough to drink coffee while maota already caught what his choice. Less what team successful Jokowi-JK partner in the 2014 Presidential Election, in West Sumatra that actually suffered a crushing defeat. As a reporter Margiono also knows exactly: haram for journalists to be partisan.
Amanah article 1 KEJ: journalists are objective, independent and always uphold the professional code of ethics. Moreover, a week before the 2018 HPN in Padang, the PWI Honor Board issued a statement in the journalist's political year should be objective, independent and high-end journalistic ethics code.
No longer, that same minute Margiono's speech campaigning Jokowi directly eaten and chewed by nitizen in social media.
To this day, the matter remains a spotlight on social media. Not only Margiono who dibully with harsh words, but also PWI institutions. Criticisms of the journalist's largest organization are more severe until there is a spoiled PWI, such as "Party Wongjilat Indonesia".
It has never been PWI experienced a wave of this reaction because of the speech chairman. PWI has faced harsh criticism during the reform period. Until it is demanded to be dissolved because it is classified as Golkar: it is considered responsible for the destruction of the nation order. That is due to the elite closeness of the PWI board with the government all journalists get sap. Lucky that time there is no social media like now that makes blasphemy in social media can pursue wherever we are.
Margiono is unlikely to forget the dark history that PWI had ever been through because of some elite who had an affair with power. He himself had felt bitter due to the affair. In the past, media was overshadowed and dozens of other media. That explains that since the PWI reform is already a talakiga with power. "Merdeka Rakyat" the name of the newspaper, clearly what it means.
Thousands of mention on twitter account and FB I questioned the PWI Chairman's speech in Padang. Some also with harsh words.
For a while I just answer this. In the Journalistic Code of Ethics journalists are required to be independent. If not independent means not a journalist. I hope with that answer everyone can understand, can understand that they are only personal views Margiono. Not the views of the press community. The press community in Indonesia is a lot. PWI is just one. Institutionally PWI certainly does not justify reporters being partisan because of it heavy violation of journalistic ethics code.
Universally ethics is indeed the crown of a journalist. Code of ethics is the operational concept of journalists. His position is above other rules and even the rule of law. Moreover, just the Basic Regulations / Household Organs of the organization.
Monday, February 12 Margiono is officially non-active as Chairman of PW. Mokasih Margiono. However, this former Pos Java Post editor has been serving PWI for 10 years and especially maintaining the spirit in difficult times.
Ilham Bintang Founder Tabloid Cek & Ricek