Mukernas I Forjim in Mataram Will Be Opened by Governor of NTB
By : Herry Barus And Aldo Bella Putra | Saturday, February 17 2018 - 15:00 IWST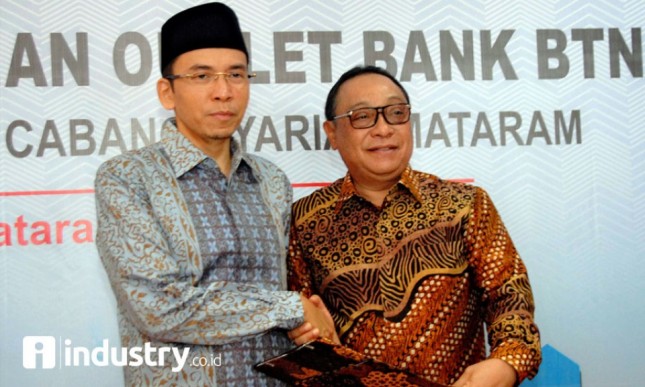 Gubernur NTB bersama Dirut Bank BTN (dok INDUSTRY.co.id)
INDUSTRY.co.id - Jakarta - Islamic Journalists Forum (Forjim) will hold the National Working Conference (Mukernas) I in Mataram, West Nusa Tenggara, Tuesday-Thursday 20 to 22 February.
The plan, Mukernas I Forjim will be opened by the Governor of NTB, Dr. TGH. Zainul Majdi, MA or commonly known as the Teacher Singles Bajang (TGB).
Chairman of the Committee Mukernas I Forjim Ahmad Zuhdi said, Mukernas Forjim held as the implementation of mandate Munas I Forjim held in early January in Jakarta. As well as an effort to continue to establish synergies with philanthropic institutions, Islamic organizations, Islamic educational institutions, Islamic finance, and the halal tourism industry which is also a recommendation of the National Conference I.
"Because it is impossible for this big work to be carried out by itself, now it is not the time to work alone, but all have to work together and collaborate," said Zuhdi in Jakarta, Saturday (16/2/2018).
General Chairman of Forjim, Dudy Sya'bani Takdir, claimed to have met with the TGB on January 25, 2018 ago.
"I have delivered it directly and he told us that God willing will open Mukernas I Forjim in Mataram," said Dudy.
Dudy said, Mukernas themed "Strengthen the Role of Muslim Journalists for the Progress of the People", it is expected to formulate a strategic work agenda in responding to issues of humanity and nationality, especially in relation to journalistic activities.
In addition, said Dudy, Mukernas is also expected to bring up a work program that can bring the Forjim into one of the respected professional organizations journalists.
"It is time for Muslim journalists to color and play a role in the world of the national press, we must take a central role," he said.
Because according to him, Forjim present as a container for Muslim journalists, whatever the medium to unite and move together.
In addition to preparing the work program, in Mukernas this time, the Forjim will also issue attitudes and recommendations related to the RKUHP polemic and the MD3 Act, especially related to the threat of criminalization against journalists who criticize the House.
Mukernas I Forjim is planned to be followed by about 45 people from PP Forjim and observers. In addition to the plenary sessions, in Mukernas I will be held Seminar on Halal Tourism in NTB and visits to halal tourism object in Thousand Islands Mosque.