Demand Grows Up To 91 Percent, United Tractors Focus on Commercial Vehicle
By : Hariyanto And Aldi Firhand. A | Friday, March 02 2018 - 20:15 IWST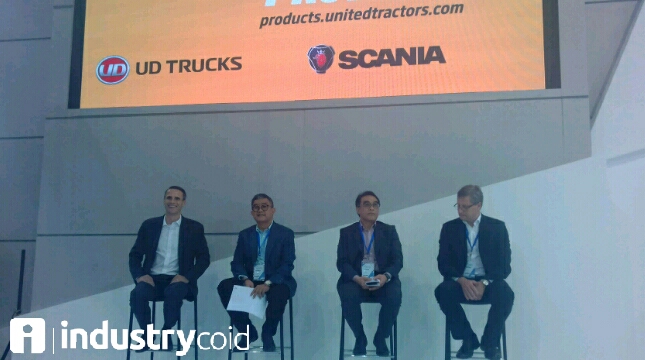 United Tractor Press Conference at GIICOMVEC 2018 (Haryanto / INDUSTRY.co.id)
INDUSTRY.co.id - Jakarta - PT United Tractors Tbk (UT) has affirmed the company's commitment to work on the commercial vehicle market of goods and passengers.
This decision is in response to truck demand growth of 91% in 2017. Demand growth is triggered by the rapid development of infrastructure and business centers, especially in Java and Sumatra.
At the GAIKINDO Indonesia International Commercial Vehicle Expo (GIICOMVEC) 2018 at the Jakarta Convention Center (JCC), UT featured three excellent products, UD Trucks Quester, Scania Trucks and Scania Bus.
"We support the national vision to make the transportation of goods and passengers more efficient, environmentally friendly, safe and comfortable, through the provision of products and the range of after-sales service of leading commercial vehicles in each class," said Marketing Director UT Loudy Irwanto Ellias.
Loudy explained that the high cost of goods distribution becomes one of the challenges of equity development, partly due to the lack of inter-modal connectivity. Transportation of goods, such as UD Trucks and Scania Trucks, will be the key liaison in the distribution chain in Indonesia.
On the other hand, there is a national need to rejuvenate large-sized regular bus fleets capable of reaching places untouched by rail-based mass transit. Louie pointed out, Scania Bus K410IB-6x2 can carry up to 62 passengers with the comfort of a sedan car.
UT product line through a comprehensive research and development process to ensure inclusive and environmentally friendly technology. In addition, another advantage is the availability of post-sale after-sales service from UT to Merauke, and direct guarantees of producers of unit quality and availability of spare parts.
"We hope the products and after-sales service offered by UT can encourage the improvement of freight and passenger transportation services to be more efficient for the long term," added Sales Director UT Iman Nurwahyu.
UT distributes Scania products that carry the slogan Sustainable Transport, Scania products equipped with the latest technology to drive more efficiently and environmentally friendly.
Passenger comfort has become Scania's priority. The Electronic Air Suspension feature on the Scania Bus unit, for example, adapts to road surface conditions so as to minimize shocks and is convenient for long-distance travel.
The UD Trucks Quester carry the slogan Going the Extra Miles; a tough heavy duty truck with more efficient fuel consumption and has a spacious and ergonomic cabin for the convenience of driving for a long time.