Mercedes Benz Presents Safety Features On Bus Chassis
By : Ahmad Fadli And Aldi Firhand. A | Friday, March 02 2018 - 20:36 IWST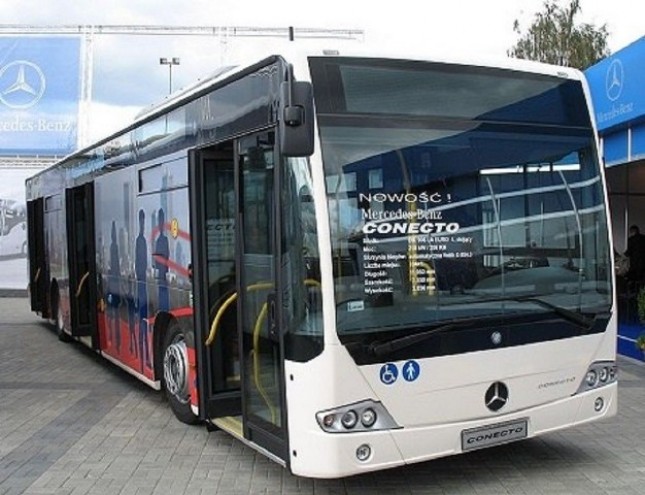 Mercedes-Benz, the first Gaikindo Indonesia International Commercial Vehicles Expo (GIICOMVEC) event, at the Jakarta Convention Center, emphasizes its commitment to safety, which can be seen in its upcoming products, the chassis
INDUSTRY.co.id - Jakarta - The sole agent of Mercedes-Benz commercial vehicle sales, the first Gaikindo Indonesia International Commercial Vehicles Expo (GIICOMVEC) event, at the Jakarta Convention Center, emphasizes its safety commitment, which can be seen in its upcoming products, Mercedes- Benz OF 1623 RF, Mercedes-Benz O 500 RS 1836, and New Actros.
Commenting on this, Markus Villinger, President Director and CEO of PT Daimler Commercial Vehicles Indonesia, said Safety is one of the fundamental brand values ​​of Mercedes-Benz. Since 1886, Mercedes-Benz has always been a pioneer in safety in passenger cars and commercial vehicles, driven by the vision of accident-free driving.
"Safety in transportation is becoming increasingly important, and integrated in all our commercial vehicles, including Mercedes-Benz OF 1623 RF bus chassis, Mercedes-Benz O 500 RS 1836, and New Actros trucks," he said in a press statement on Friday (2 / 3/2018)
DCVI answers the Indonesian government's ongoing focus on transport safety by ensuring all its commercial vehicles meet the highest safety standards. The integral safety concept consists of several component parts, centered on innovative safety systems tailored to vehicles and uses, aiming to continuously improve safety, both passive and active.
The new Mercedes-Benz OF 1623 is a 16-ton front-engined bus, with more horsepower than other products in its class, the 6-cylinder diesel Mercedes-Benz OM 906 LA Euro 3. Buses designed for this city's transportation has safety features such as Auto Slack Adjuster and Full Air Brake System. Meanwhile, the Mercedes-Benz O 500 RS 1836 is a rear-engined Premium bus for long-distance travel, has a 6-cylinder diesel engine Mercedes-Benz OM 457 LA Euro 3. The bus features safety features Anti-Lock Braking System and Acceleration Skid System.
"For Mercedes-Benz buses, safety is not measured in units, but is the result of an overall integral safety concept. All our buses are built with development across all areas aimed at meeting the highest safety expectations, "Villinger said.
In the event of GIICOMVEC, Mercedes-Benz also displays the Actros 2640 LS truck with an anti-fire ADR chassis, the preferred transport for petroleum companies. Continuing the long tradition of Actros, DCVI will soon introduce New Actros this year. The robust and reliable Line Actros have some key safety features like Electronic Stability Program, Lane Keeping Assist, Attention Assist, Proximity Control Assist, and Active Brake Assist 4 as an option. These features include the state of the art technology for the Indonesian truck market.
"We are very pleased to prepare the Indonesian market in welcoming the launch of New Actros. Combining power, robustness, efficiency and, most importantly, safety, in a unique event, New Actros continues the 120-year tradition of Mercedes-Benz merchandise and brings it to the future with innovative technology that focuses in the future. "