Java Jazz Festival 2018, BNI Publish TapCash Elite Yo Band Edition
By : Hariyanto And Aldo Bella Putra | Sunday, March 04 2018 - 18:00 IWST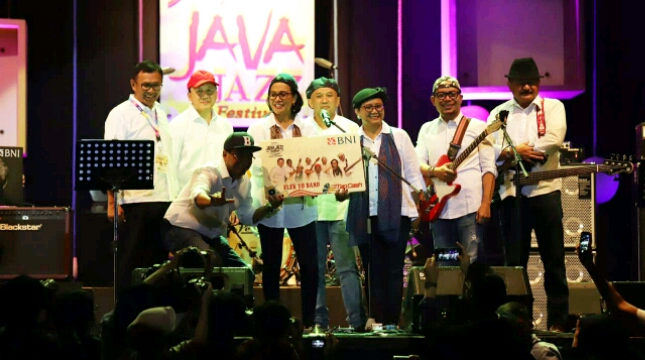 BNI Terbitkan TapCash Edisi Elek Yo Band
INDUSTRY.co.id - Jakarta - The presence of Elek Yo Band and the fanfare that helped enliven the Indonesian music scene prompted PT Bank Negara Indonesia (Persero) Tbk or BNI to help immortalize the band consisting of ministers and high officials in the Working Cabinet into one of its banking products.
BNI publishes refill-based electronic money or a limited edition BNI TapCash Elek Yo Band to capture the band in one of these contemporary transactional tools.
Launch of TapCash limited edition Elek Yo The band is marked by the handover of Mock up TapCash from the BNI Board of Directors to one of the Elek Yo Band retainer in Jakarta, Friday (2/3/2018).
Submission of BNI TapCash symbol was carried out by BNI President Director Achmad Baiquni to Minister of Transportation Budi Karya Sumadi on the sidelines of Elek Yo Band performing on one of Jakarta International BNI Java Jazz Festival 2018 sessions.
Present on the occasion were Elek Yo Band personnel namely Public Works and People's Housing Minister Basuki Hadimuljono as drummer, Head of Creative Economy Body Triawan Munaf on keyboard, and Minister of Labor Hanif Dhakiri, and Minister of Transportation Budi Karya Sumadi respectively on acoustic guitar and vocals.
There are also Foreign Minister Retno Marsudi, Finance Minister Sri Mulyani Indrawati, and Chief of Staff of Presidency Teten Masduki on vocals.
The issuance of BNI TapCash Card is one form of BNI support in support of Non-Cash National Movement (GNNT) carried by Bank Indonesia (BI). Until the end of January 2018, BNI has printed and distributed more than 3 million TapCash cards. The cards were used transactions averaged more than 3 million transactions per month, where the volume of transactions per month around Rp 30 billion.
BNI TapCash is replacement cash money that can be refilled, can be used for payment to merchants BNI cooperation. The advantages of BNI TapCash include transaction speed of less than 1 second, without minimum transaction, and can be top up to Rp 1,000,000.
BNI TapCash merchant network is already spread in Jabodetabek and outside Jabodetabek. For Jabodetabek area, users can use BNI TapCash for TransJakarta Bus, Jabodetabek Commuter Line Train, pay for E-Parking Parking Resca, pay tolls at Toll Gate in Jabodetabek City, Jakarta-Tangerang Toll Road, Meruya-Ulujami Toll Road, Jakarta Outer Ring Road (JORR), South Bogor Toll (BORR), shopping at Alfamart and Lawson, and at other merchants.
For outside Jabodetabek area, BNI TapCash is applicable for Trans Semarang Trans Jogja, Trans Jogja Buses, Alfamart, Indomart, and West Java Toll Road, Bali-Mandara, Semarang, Surabaya, Medan and others.
Checking and slicing BNI TapCash balance can be done through TapCash Go Application, Cash and Non-Cash ATM BNI, and Electronic Data Capture (EDC) Machine at BNI Branch or Acceptance TapCash Merchant.