GIICOMVEC 2018, Open Market Opportunity For Mobil Anak Bangsa
By : Ridwan And Aldi Firhand. A | Sunday, March 04 2018 - 19:57 IWST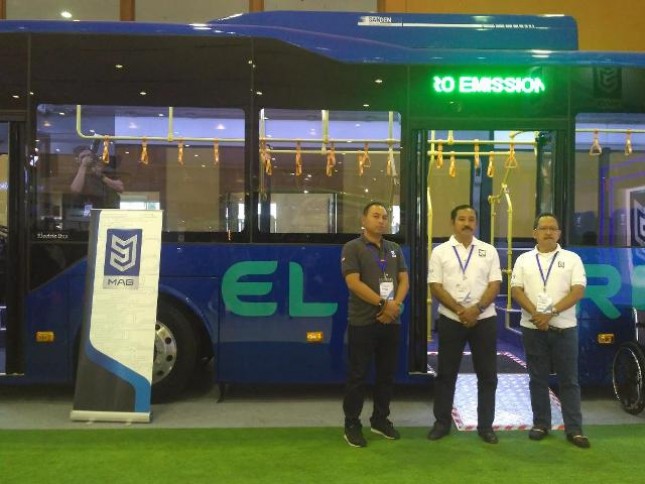 PT Mobil Anak Bangsa immediately mass production of electric bus brand MAB (Photo: Fadli INDUSTRY.co.id)
INDUSTRY.co.id - Jakarta, Visitors of the exhibition GIICOMVEC (GAIKINDO Indonesia International Commercial Vehicle Expo) 2018 experienced a significant increase on the third day, Saturday, March 3, 2018.
Although the concept as a business to business exhibition (BtoB) specifically the commercial vehicle industry, in fact does not reduce the public interest to see firsthand the event of commercial vehicles in Hall A and Hall B Jakarta Convention Center (JCC).

On the third day or weekend, the exhibition booth GIICOMVEC 2017 is also increasingly crowded by visitors. One of them is PT Mobil Anak Bangsa (MAB), a local automotive company that developed the first electric bus in Indonesia. MAB exhibits an electric bus that has a maximum speed of 70 km per hour with a capability of mileage of 250 kilometers.
As a power source, the battery has a capacity of 259.2 kWh which can supply power up to three hours duration. The bus with the MD255-XBE1 series is 12 meters long, 2.5 meters wide and weighs 2.2 tons and can accommodate 60 people.

"I feel a big MAB opportunity, because as a pioneer of electric cars only, but if in the future there are other products such as this, should be more different in the competition, but I think it would be great if MAB have competitors to have a comparison, "said Bambang Tri Soepandji, Technical Director of PT MAB.

President Director of PT MAB, Leonard said, in this exhibition, MAB brings two units of electric bus prototype developed with the content of local materials reached 40 percent.
"Through this GIICOMVEC we hope that MAB is better known to the public and potential buyers both from within and outside the country." There are several transportation and Transjakarta operators who are interested in making purchases, "said Leonard.

The work of Indonesian children in the field of commercial vehicle development is also evident from the products exhibited by five participating water industry participating in GIICOMVEC 2018 namely Adiputro, Laksana, Shinmei, Sugity Creatives, and Trubo Engineering. One of them, Karoseri Laksana carrying the latest glass windshield design is sloping.

GIICOMVEC 2018 was held from March 1, 2018 from 10.00 am to 19.00 pm in an area of ​​16,000 square meters Jakarta Convention Center (JCC). The exhibition is expected to provide added value to approximately 3,000 industry players who are potential visitors from various industries such as transportation, logistics, construction and infrastructure, oil and gas commodities and non-oil and gas, including coal, oil and gas and livestock, forestry, retail, wholesaler and others .