Liberika, Unique Coffee from Jambi
By : Chodijah Febriyani And Aldi Firhand A | Sunday, March 11 2018 - 20:47 IWST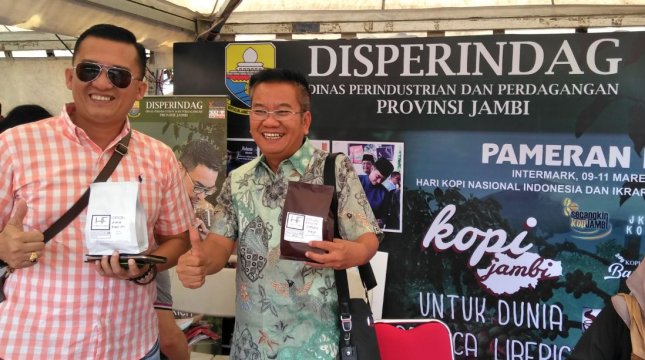 Head of Disperindag of Jambi Province Ariansyah (left) exhibited coffee of Jambi farmer's production at Exhibition and Expo Kopi Nusantara 2018, at Intermark Hall, BSD, Tangerang, Friday (9/3/2018). (IST)
INDUSTRY.co.id - Tangerang Selatan - One of the aesthetic coffee exhibited at the Exhibition & Expo Kopi Nusantara 2018, at Intermark Hall, BSD, Tangerang, Friday (9/3/2018) is a type of coffee liberika. This type of coffee is still rare in Indonesia, rather than two other types of arabica and robusta. The region producing the type of liberica coffee is the province of Jambi.
The exhibition and Expo was held in order to commemorate the launching of National Coffee Day initiated by the board of DPP Dewan Kopi Indonesia (Dekopi). This national-scale exhibition was held from March 9-11, 2018.
Head of Industry and Trade Agency of Jambi Province Ariansyah revealed that this type of coffee is one of the unique types of coffee in Jambi. The uniqueness of the coffee is because it grows and breeds in the lowlands and peatlands.
Although the quality and hype still inferior to the type of robusta coffee and arabica, liberica has a more expensive selling price.
"liberika sold for 120 thousand/kilo. If arabika or robusta the price ranged between 60-70 thousand/kilo ," said Ariansyah when found in the Exhibition & Expo Kopi Nusantara 2018.
About the price is more expensive, because the coffee has a distinctive aroma of flavor and has had its own buyers, so that people are very difficult to get it, except for certain events.
In addition, the expensive coffee liberika also caused by the lack of results when it became coffee powder. For example, one kilogram of liberated coffee beans when processed only to about 100 grams of ground coffee, while with the same amount, arabica and robusta coffee can produce 700 grams of ground coffee. The lack of processed products is caused by the thicker peel of the coffee beans than the arabica and robusta coffees.
Although liberika is a unique coffee, but Ariansyah not dismissed if arabica coffee and robusta typical Jambi also has a good flavor and has its own fans.
For Robusta coffee, for example, Ariansyah said that if Robusta coffee plant in Jambi is planted on land which is located at an altitude of 1,200 meters above sea level and its age is hundreds of years.
Ariansyah also revealed that coffee from Jambi has been imported to various countries. "Australia, Europe, and America For our America, our most widely circulated coffee in the Virginia area," he said.