PLN Targets All Villages in Morotai Island to Enjoy Electricity in 2018
By : Hariyanto And Aldo Bella Putra | Monday, March 19 2018 - 19:00 IWST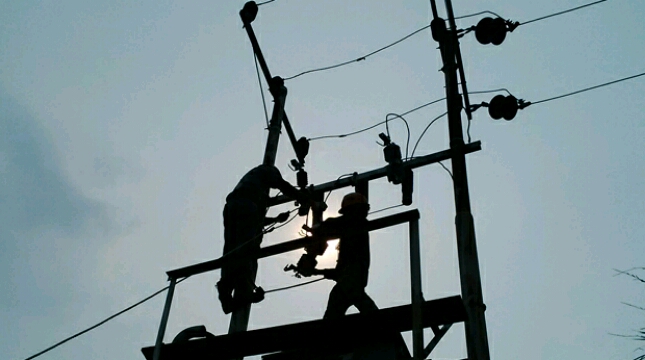 Ilustrasi pekerja PLN (ist)
INDUSTRY.co.id - Jakarta - PT PLN (Persero) continues its efforts to power four villages in Morotai Island such as Podimor Padange Village, Bere-Bere Kecil Village, Titigogoli Village and Hapo Village in Morotai Jaya District, Morotai Island Regency, North Maluku Province.
Currently, the process has entered the stage of stopping power poles and installation of isolators along the path of these villages.
Head of PLN Corporate Communications Unit I Made Suprateka said that currently there are 79 villages from 88 villages in Morotai Island have been electrified and are in construction stage. To that end, PLN targets for all villages in Morotai Island to enjoy electricity in 2018.
"With the dilosisinya villages in Morotai Island, is expected to improve the living standard of society and economic activities in the village with the surrounding villages," said I Made Suprateka in a written statement received on Sunday (18/3/2018).
To upgrade the four villages, PLN builds a 22.56 kms medium-voltage (JTM) network, a low-voltage (JTR) network of 2.88 kms and 4 distribution units with a total investment value of Rp 3,069,886,000.
It is targeted that the electricity in the four villages will be lit in April 2018, where the electricity will be supplied from the Sopi 1x500 kilo Watt (kW) power plant and light up for 24 hours.
In the electrical work of this village, the electric poles used for power grids in these four villages must be transported by sea from Ternate with travel time of 1 day traveling if the weather is normal.
Not infrequently the carrier ships pole difficulty sailing because of strong waves that are in the waters around Morotai Island. However, by 2018 this pole transport can already be done through Tobelo so it can save the time it takes.
Later, after the completion of electrical construction work, then as many as 388 heads of families (KK) of the four villages will enjoy electricity from PLN.
Head of Podimor Village Padange Albor Dama expressed his gratitude for this LISSA program.
"We thank you very much for the programs of the government and we are from this new corners feeling this electricity is free now.With the entry of electricity to Podimor Padange village this will reduce household expenses from previously used diesel (genset)," he said.
"Minimum fuel consumption can be up to 30 liters more in a month, and not all have diesel engines and only use loga-loga (oil lanterns), and if the electricity goes in, the electricity consumption is probably only Rp 50-100 thousand per month." Albor Dama.
According to him, the existence of electricity also affects education in helping the smooth learning of children there. "Children can learn at night because there is illumination," said Albor Dama.
PLN's efforts to upgrade all villages in Maluku and North Maluku by 2018 are in line with the government's mandate. This year, PLN targets to upgrade 290 villages in North Maluku. As for nationally, the Berlistrik Village Ratio has reached 97.1% in 2017, so that is the total of electrified villages in January 2018 is 75,735 villages.