Drivers Urge the Government to Rationalize the Rate of Ojek Dedicated to Unreasonable
By : Herry Barus And Aldo Bella Putra | Tuesday, March 27 2018 - 14:30 IWST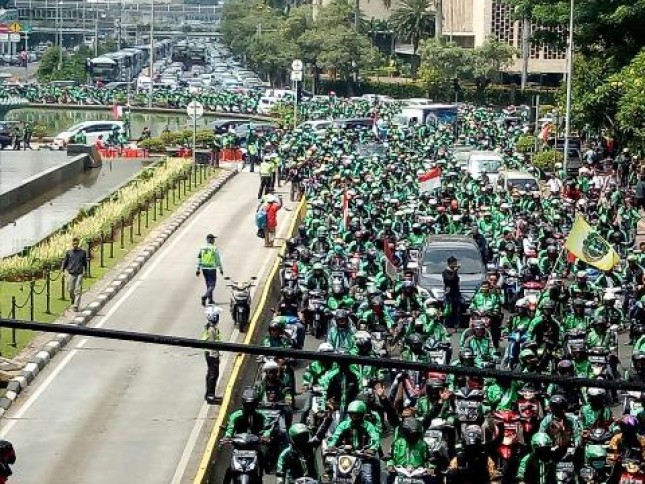 Demo pengemudi onlie (Foto Industry.co.id)
INDUSTRY.co.id - Jakarta - Polda Metro Jaya Officers and Central Jakarta Metro Police secure a motorcycle taxi demo online (online) in front of the Presidential Palace which is planned to take place at 10:00 pm until 18:00 pm.
"Polda Metro Jaya has received a notification letter," said Head of Public Relations Polda Metro Jaya Police Commissioner Argo Yuwono in Jakarta Tuesday (27/3/2018).
Argo said the mass that will be named as a member of the Indonesian Roda Two Action Association (Garda) comes from an online motorcycle taxi driver.
Argo stated that the standby officers secure protest mobs and regulate the traffic flow around the action that will impact on vehicle density.
Argo said protesting mobs demanded that the government rationalize the ojek online rate which was considered unreasonable.
According to the plan, Argo said the presidential palace would receive several representatives from the protesters to deliver the charges.
"The plan of the President will receive representation but not yet the date," said the officer of the middle officer.
Argo urges all the masses who take action to maintain security and public order, and convey the aspirations peacefully so that no unwanted events occur.
Meanwhile, according to one action participant to the Industry.co.id team at the location stated that the action this time is a response from the drivers who are members of the Combined Action of the Two (Garda) to urge the Government to issue a justice regulation for the motorcycle taxi drivers online.
"We demand that Firstly, the Ojek Online is given a fair and unfeasible umbrella for the ojek driver online, and secondly, the Government is required to set a rational tariff for the online motorcycle taxi that fulfills the sense of justice," said Wak Irul, one of the participants.
Here is a list of online ojek community that is incorporated in GARDA who held a peaceful action this afternoon:
01. PPTJDI 02. TEKAB INDONESIA 03. FBO 04. SDG INDONESIA 05. CITY NIGHT HARMONI 06. KBGB BIRD HAYU JAYAKARTA 07. TRAFFIC NIGHT CENTRAL HARMONI 08. GOGRABER INDONESIA 09. UBER MAINSTREAM COMMUNITY 10. GERINDO BERSAUD / SOUTHERN DURI 11. Black Horse Run The Night 12. Solidarity grab indonesia 13. Brother ojol 14. LLJ 15. BRIGADE 86 FBO 16. EMERGENCY RESPONSE TEAM 17. COMPETITION OF CORRUPTION (KOPASTI) 18. KM 13.5 KUNCIRAN PINANG 19. BKTC (Bokah Kalong Tangerang City) 20 TANGERANG City CITY 21. QUOTA TANGKOT 22. KALONG GOGRABER 23. GOGRABER HAWK 24. SERDADU GOGRABER 25. TANGKOT POLE
26. OSAC (ojol solid all community) 27. BASUDARA 28. UMCT MAMI 29. OTB (ONLINE TANGERANG BERSATU) 30. GERBANG RAYA BERSATU TANGGERANG CITY 31. SOLIDERITY DRIVER ONLINE TANGERANG KOTA 32. KBGGU CTB RAMAYANA CILEDUG 33. KBGGU UNITRI 34. BRIGADE 11, Cikarang 35. SRF, Pandegelang 36. COC (Cibodas Online Community) 37. COMBAT JATIUWUNG 38. GXC PONDOK RANDU 39. SUF (SOLIDARITY UBER FATMAWATI) 40. PEOPLE (UBER MOTOR CHILDREN TANGERANG) 41. KOI (FAMILY OJOL INDONESIA ) 42. gambir gambir 43. BROTHERSHIP OF JJODETABEK SEJAH 44. FOOTWEAR TRADE (SLM) 45. GB -JKT UJUNG MENTENG 46. GKN (GRAB KEBON NANAS) 47. BC OTTC UMJ Cirendeu -cututat 48. KOPS PRIUK SHELTER BAHARI 49 SF BHSC Bekasi aka SANZ 50. SADULUR DEPOK
51. SADULUR BANDUNG 52. SADULUR CIBITUNG 53. TANGERANG COMMUNITY JACOTA-NETWORK. 54. TANGERANG VEGASS. 55. SLIPI BERSATU 56. CITY HOEDJAN BERSATU (KHB) 57. SPECIAL TEAM SOLID URC JABODETABEK 58. GREAT FAMILY RIDER ONLINE CIPINANG MUARA 59. PON (Unity of Ojol Nusantara) 60. KBGGU PANGLIMA JAKTIM (East Java Base) 61. SULTAN AGUNG RAYA bekasi 62. OSC Ojol Setia Cengkareng 63. JOB (Jatipulo Online Biker's) 64. BLACK RANGER INDONESIA 65. OJEK ONLINE COMMUNITY (OOC) 66. KBOB INDONESIA (Great Family Online Unite) 67. SOB (SAHABAT ONLINE BERSATU) 68. KBO PEGASUS 69. FULL RECOMMENDATIONS OF FREE FOUNDATION 37 TEKAB 70. G99 INDONESIA 71. GO-GRAB JEK PETAMBURAN 72. OJEK ONLINE NKRI, Gn Sindur 73. G-01 DRIVING KALIABANG 74. KLM (Melawai Melawai Family) 75. KBDJ
76. KBDOI 77.campart senen 78. RI Pademangan 79.KBGG PESAT matraman 80. SERDADU BEKASI DST 81. Online Bekasi Bersatu (OBB) 82. SOHIB SEJABODETABEK 83. TEAM JK (JAKARTA KOTA) 84. GTO (Cross Stone Write-Gambir ) 85. UBER NUSANTARA JATIMULYA BEKASI TIMUR (UNJ) 86. ONLINE BIKERS KRAMAT (OBK) Kramat pulo Senen jakpus 87. Twenty One Kramat Pulo in 88. TELUKGONG RAYA ZONAKALONG 89. * SMANDU GAJAH MADA * 90. * Mnyatukan Krabat Grab * * Kelapa Gading * 91. BHS 13 KARAWACI TANGERANG 92. * LBU (Lintas Bekasi Utara) * 93. * SHELTER KETAPANG DEPOK * 94.BIKERS ONLINE UNAS 94.SUJAH KAMPRET LANGAS NIGHT (SKLSM) depok jabodetabek HAGANAN 95. MUTUARA PALEM CENGKARENG MPC) 96. CLEPUK GOGRABER 97.ROOT BONANG 98.ROOT SAHARA 99.ROOT 100. * KBGGU BERLIAN RAYA SUMURBATU *
101. * LAND ONLY CILEDUG * 102. O2PP 103.KBOC (Family Online CROVER) 104. * KBBS * * 7 * (Large Family Bintaro Sek * 7 *) 105.TEAM CILUMAN GPS (GRAB PANTURA SUBANG) 106. * GBB * (GRAB BRAVO BERSATU) PETAMBURAN 107.UIN Jakarta Ciputat 108.KGC cross depok 109.GBC GRUB OJOL jabotabek 110.Serigala rabel 111.kbggu grave haunted