Minister of PDTT Eko Putro Reviews Citarik Sukabumi Village Fund
By : Herry Barus And Aldo Bella Putra | Sunday, April 08 2018 - 14:30 IWST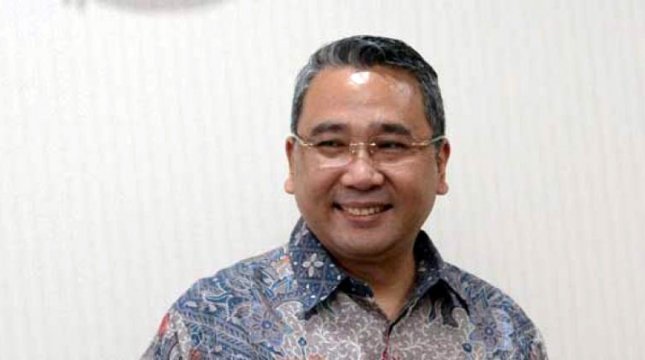 Menteri Desa Pembangunan Daerah Tertinggal dan Transmigrasi (PDTT) Eko Putro Sandjojo. (Foto: IST)
INDUSTRY.co.id - Sukabumi - Village Minister, Development of Underdeveloped Regions and Transmigration Eko Putro Sandjojo reviews Citarik Village, Sukabumi District, West Java, to monitor the absorption of the Cash For Work Program of Village Fund 2018, Sunday afternoon (8/4/2018)
"The village of Citarik in this area was previously a slum area of ​​a garbage dump, now assisted by the Ministry of Public Works and Public Housing (PUPR) to build waste-based waste dumping (TPS) buildings. We assist in the process of procuring waste processing machinery through village funds for operational, "he said at" TPS 3R "Citarik Village Pelabuhan Ratu District.
Eko who came with a number of staff and representatives from the Ministry of PUPR, arrived at Citarik Village at around 10:00 pm immediately conducted a review to two locations namely the village fund project, TPS 3R and the construction of embung or retention pond in Bukit Manunggal.
The arrival of the entourage was greeted by the village chief of Citarik Moch Ledi Nuraidi and Pelabuhan Ratu Dody Rukman as well as the surrounding community.
Eko appeared to be talking with 40 TPS 3R garbage bank workers, the majority of whom are economically empowered by processing organic and non-organic waste.
"Keep the spirit of the mothers and fathers," said Mendes Eko to the workers.
Eko also appreciated the steps of the Ministry of PUPR in assisting the rehabilitation of Citarik Village through the procurement of three units of waste processing machinery and buildings.
"The average worker in this TPS can bring home Rp35,000-Rp60,000 per week from trash processing," he said.
The review of the entourage continues into the construction of adjacent water catchment ponds with the 3R TPS.
Eko placed himself in dialogue with representatives of 110 workers at the location to inquire about the amount of rupiah they bring home through the making of a pond called Situ Kubang with an area of ​​300 meters per square.
"Honor 110 workers from the embung is from our Village Fund of Rp80,000 per day now the progress is 35 percent completed, hopefully it will be completed in May 2018 and gradually we will roll out the fund for other activities," he said.
It is said Eko, the target of the program is to change the slums and smells into tourist destinations and waste areas can be an economic value for residents.
In addition to making Embung, village funds in Citarik also intended for the making of a pavilion right in front of the pool of retention is projected to be a tourist destination.
Village Chief of Citarik Moch Ledi Nuraidi said that his party received the initial funding of village funding in 2018 amounting to a total of Rp771 million.
"The funds from this village are only 20 percent of the land allocation for the construction of the Kubang Situation Wall and the construction of Saung Tourism, we will also create mountain bike tracks, jogging arenas and other facilities," he said. (Ant)