President Jokowi Receives President Ebrahim Raisi at the Bogor Palace
By : M. Shaqeel | Thursday, May 25 2023 - 08:35 IWST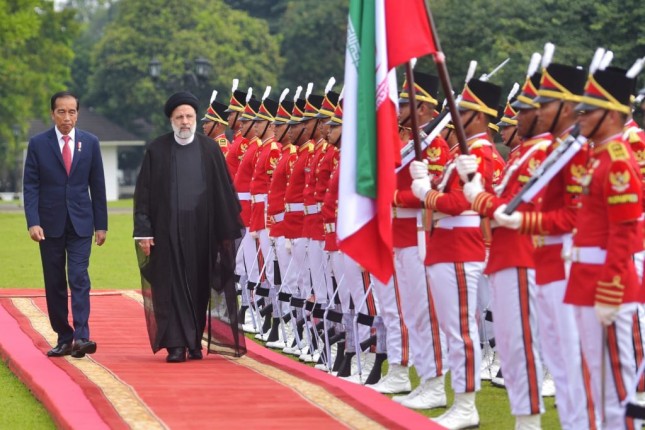 President Jokowi and President of the Islamic Republic of Iran Seyyed Ebrahim Raisi conducted an honor guard inspection, Tuesday (23/05/2023), at the Bogor Presidential Palace, West Java. (Photo: Public Relations of Setkab/Agung)
INDUSTRY.co.id - Indonesian President Joko Widodo (Jokowi) welcomed a state visit by the President of the Islamic Republic of Iran Seyyed Ebrahim Raisi, Tuesday (23/05/2023), at the Bogor Presidential Palace, West Java.
President Raisi and his entourage arrived at the courtyard of the Bogor Presidential Palace at around 10.40 WIB accompanied by cavalry troops, troops in traditional clothes, and a marching band for the presidential guard (paspampres).
Arriving at the forecourt of the Palace, President Raisi was immediately greeted by President Jokowi. The procession was then continued with a state ceremony by the singing of the Iranian national anthem, Sorude Melliye Johuriye Esleomiye Ireon and the Indonesian national anthem, Indonesia Raya, accompanied by the sound of cannons 22 times. Furthermore, the two leaders carried out an inspection of the ranks of honor.
Then, the two leaders introduced the delegations of each country. From Indonesia, among others, Minister of Foreign Affairs (Menlu) Retno LP Marsudi, Minister of State Secretary (Mensesneg) Pratikno, Minister of Energy and Mineral Resources (ESDM) Arifin Tasrif, Minister of Trade (Mendag) Zulkifli Hasan, Deputy Minister of Health (Wamenkes) Dante Saksono, Head of the National Research and Innovation Agency (BRIN) Tri Handoko, Indonesian Ambassador to the Islamic Republic of Iran Ronny Prasetyo Yuliantoro, and Plt. Director General for Asia and Africa, Ministry of Foreign Affairs, Jatmiko Heru Prasetyo.
Meanwhile, the delegates from Iran included the Minister of Foreign Affairs, Minister of Information and Communication Technology, Minister of Oil, Vice President for Science and Technology, and Chargé d'Affaires of the Iranian Embassy for Indonesia.
After that, the two leaders headed to the Lotus Room to do a group photo session and sign the guest book.
Then, President Jokowi invited President Raisi to the veranda behind the Bogor Palace to take pictures and chat for a moment. Furthermore, the two heads of state planted a tree together in the palace's backyard. The tree planted is the Ulin Wood Tree.
The two leaders then returned to the back verandah of the Bogor Presidential Palace for a face-to-face meeting or tête-à-tête, followed by a bilateral meeting between the two countries and a joint press statement by the two leaders. (RSF/UN)