Minister of Energy and Mineral Resources, Ignatius Jonan, Is Stubborn But Like to Down Immediatly to the Field
By : Kormen Barus And Aldo Bella Putra | Sunday, April 08 2018 - 16:30 IWST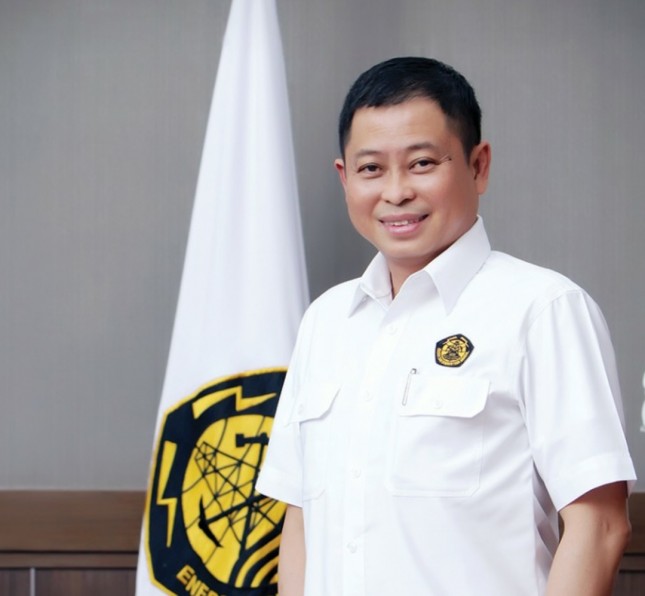 Menteri ESDM Ignasius Jonan (Rino/INDUSTRY.co.id)
INDUSTRY.co.id - Jakarta, Minister of Energy and Mineral Resources, Ignatius Jonan, has a good sense of humor.All his views, he delivered ceplas-ceplos, but critical in commenting on various topics that hottest today.
The figure gives its own color in the Working Cabinet.
Mr. Jonan, as Ignatius Jonan is addressed, is not a new person in the government of President Joko Widodo and Vice President Jusuf Kalla.
He was once a minister of communications in the Working Cabinet. But back then, not yet a period, Jonan was removed.
Even so, it turns out Jokowi still need energy. Jonan then re-inaugurated as Minister of Energy and Mineral Resources (Minister of EMR).
President Joko Widodo, apparently impressed with the character of the former Minister of Transportation, so he has a reason to pull Ignasius Jonan back into the Jokowi Working Cabinet.
According Jokowi, Jonan is a professional figure who is known to be brave and have competence.
"I think everything is familiar and I do not have to introduce it too well known," said Jokowi at the State Palace, Jakarta, Friday, October 14, 2016.
Behind the familiar name of Jonan, the President also did not hesitate to appreciate the harsh attitude of former President Director of PT Kereta Api Indonesia. "Stubborn but like to plunge in the field," said Jokowi.
President Jokowi was so hopeful on the birth figure of Singapore, June 21, 1963 it.
Moreover, the task of the Minister of Energy and Mineral Resources is not easy.
However, Jokowi believes that the problems in the energy and mineral sectors can be solved. The selection of Jonan as minister of ESDM is solely due to the management's affairs.
Moreover, Jonan is considered successful in transforming PT KAI.
During the lead of the train, Jonan is often invited to be a speaker or resource person in various institutions to share his experience.
His staff in PT KAI and the group, at that time, deeply felt his views that had a good impact on them and KAI.
Especially how Jonan builds positive image and communication.
In various meetings or meetings with KAI employees, everything takes place in a relaxed atmosphere and interspersed with laughter. Jonan has a good sense of humor.
All of his views, he said with ceplas-ceplos, but critical in commenting on various topics that hottest today.
The theme of the discussion, all exposed in a humorous dress. They always tickle the stomach of the audience.
Actually, the name of Ignasius Jonan just sticking out after being appointed as President Director of PT KAI in 2009 by Minister of SOEs at the time, Sofyan Djalil.
In fact, Ignasius Jonan has never had a career in the field of transportation business, let alone the train.
His previous career ranged in finance, served as director at Citibank and PT Bahana Pembinaan Usaha Indonesia.
From then until now, the public knows him as a phenomenal minister.
He is also one of the officials who has a high work ethic and extraordinary courage.
Because Jonan is often in contact with the problem is quite complicated.
But all the problems he always solve with a brilliant idea.
This is what makes in his tenure in KAI, Ignasius Jonan successfully reversed the loss of Rp 83.5 billion in 2008 to a profit of Rp 154.8 billion in 2009.
The rejuvenation of the means during his leadership raised the image of the railway until it became the public mode of public choice.
Not only that, the discipline and high dedication that Ignatius Jonan apply to further curb the state-owned rail business.
Especially after the news about Ignasius Jonan sleeping on the train in order to oversee the maximum service of economic trains to become viral.
Breakthrough Variety
Not only that. During the Minister of Energy and Mineral Resources Ignatius Jonan, many made a breakthrough.
Such as negotiating with PT Freeport Indonesia (PT FI), so willing to release 51% of its shares to the Government of Indonesia.
The release of 51% shares which is a symbol of the country's sovereignty was requested by the President of the Republic of Indonesia, Joko Widodo to be completed before the end of April 2018.
Then, the Minister of Energy and Mineral Resources Minister Ignatius Jonan's decree also, about the price of special coal for electricity.
He dares to determine the benchmark of coal prices for domestic needs (Domestic Market Obligation / DMO), especially electricity, which can be accepted by coal businessmen on one side, and PT PLN on the other.
Given the price of coal in the international market is soaring high above US $ 100 per ton.
The ESDM Minister has set the price of coal for national electricity worth US $ 70 per ton.
Such determination shall be marked by the issuance of the Decree of the Minister of Energy and Mineral Resources No. 1395K / 30 / MEM / 2018 on Coal Prices for the Provision of Electricity for the Public Interest.
The selling price of coal for Steam Power Plant (PLTU) will refer to Coal Reference Price (HBA).
When coal prices increase, PLN buys coal from entrepreneurs at US $ 70 per ton.
Vice versa, if the price drops, PLN still buy with the nominal.
Minister ESDM Jonan has certainly been through a long consideration and involves employers and PT PLN with their respective interests.
Entrepreneurs with business interests, PLN with the public interest that is maintaining electricity tariffs do not rise according to the direction of President Jokowi.
In the end Jonan was able to produce a formula that bridged the interests of both.
PLN can breathe a sigh of relief as it is well below HBA or market price.
PLN can breathe freely because the current PLTU that uses coal as primary energy as much as 59.06 percent.
With this determined HBA will obviously have an effect on the financial condition of PLN become healthier amid the government's desire not to raise the Basic Electricity Rate until 2019.
The ESDM minister recently also arranged dozens of regulations and permissions that were considered overlapping and irrelevant.
So far, as many as 90 regulations and 96 certifications / recommendations / permits in the EMR sector have been revoked.
The regulation and licensing are scattered in the oil and gas subsectors (mineral, coal and miner), electricity, renewable energy and energy conservation (EBTKE) as well as regulations on the Special Unit for Upstream Oil and Gas Business Activities (SKK Migas ) and Oil and Gas Regulatory Agency (BPH Migas).
"The total revoked or revised regulation is 90 and 96 certifications / recommend / licensing allowances, so the total is 186," said ESDM Minister Ignatius Jonan.
Minister Jonan continued the simplification of licensing is the mandate of President of RI Joko Widodo in order to foster economic competitiveness for the business world.
"According to Mr. President's suggestion that we should be business friendly, investment friendly, the goal is that we can create jobs and economic growth will continue to increase," said Minister Jonan.
Of a total of 90 regulations that have been simplified, the details are as follows.
As many as 18 regulations from oil and gas, 20 regulation of electricity, 32 on minerba, 5 regulation EBTKE, 12 rules of implementation on SKK Migas and 3 regulations on BPH Migas.
While the 96 certifications / recommendations / permits revoked are 23 coming from oil and gas, 64 from minerba and 9 from EBTKE.