Realize BBM One Price, Ministry of ESDM Inaugurates Regular SPBU in Bangai Laut
By : Hariyanto And Aldo Bella Putra | Wednesday, April 18 2018 - 18:00 IWST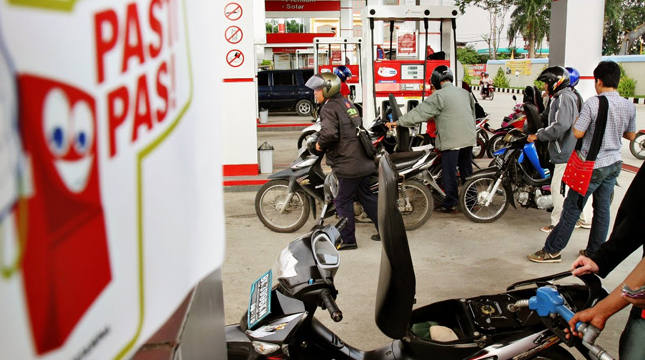 Suasana Pengisian BBM (Pertamina)
INDUSTRY.co.id - Banggai Tengah - The new BBM dealer institute was again inaugurated as an effort by the government to realize BBM Satu Price throughout Indonesia, this time in the form of Regular Gas Station in Banggai Tengah District, Banggai Laut Regency.
The inauguration of Regular Gas Station is carried out by the Director of Oil and Gas Downstream Business Development of the Ministry of Energy and Mineral Resources Harya Adityawarman together with Members of BPH Migas Committee Marwansyah Lobo Balia, GM MOR VII PT Pertamina (Persero) Tengku Fernanda, Banggai Laut Regent H. Wenny Bukamo, TNI and Polri, community of Banggai Laut Regency.
Director of Oil and Gas Downstream Business Development Harya Adityawarman in his speech said, through the BBM One Price program, the Government together with Pertamina is committed to continue to increase the number of agencies distributing fuel throughout Indonesia. This is one of the priority agenda of the Jokowi-JK government included in Nawacita: building Indonesia from the periphery by strengthening regions and villages within the framework of the unitary state.
"Alhamdulillah Praise the Lord today that the people of Banggai Laut can enjoy fuel at the same price as in Java," said Harya.
Harya added, the Minister of EMR realizes Nawacita Jokowi-JK by issuing Regulation of Minister of Energy and Mineral Resources. 36 of 2016 on the Accelerated Enforcement of One Price of Specific Fuel Type and Fuel Type Specific to National Assignment, which is effective from 1 January 2017.
"Residents of Banggai Laut feel very grateful for the presence of gas stations here so that people can enjoy premium fuel at Rp 6.450 / liter and diesel for Rp 5,150 / liter, said H. Wenny Bukamo as Banggai Laut Regent.
"Banggai Laut is an archipelagic area, the length of the road in Banggai Laut is about 400 km and only a quarter of it is paved," said Wenny.
Directorate General of Oil and Gas along with BPH Migas and Pertamina continue to mapping the target location of BBM Satu Price program. "For the region of Sulawesi, after Banggai Laut there will be 5 other districts established by the fuel distributor institutions, namely Sigi, North Gorontalo, Konawe Islands, Sitaro Islands and Talaud Islands", explained Harya.
On the same occasion, symbolically inaugurated also a fuel supplier agency located in Prime District, Lanny Jaya District - Papua.
According to GM MOR VII PT Pertamina (Persero) Tengku Fernanda, Regular Gas Station Banggai Laut and SPBU Kompak Lanny Jaya respectively are the 3rd and 4th gas stations that have been operating from the plan of 67 channel program BBM One Price to be established by PT Pertamina (Persero) in 2018.
"The regulated gas station tank capacity of 15 KL Premium and 15 KL Solar is expected with the existence of this gas station to meet the needs of Banggai Laut community." added Tengku.
Previously in Kabupaten Banggai Laut there was established a Regular Gas Station located in District Banggai to serve the community by providing Premium and Solar fuel types.
Banggai Laut community previously purchased Premium and Solar type fuel at retailers with a price range of Rp 15,000 to Rp 30,000 per liter. While in Lanny Jaya Regency, the price of Premium and Solar type fuel reaches Rp 20,000 to Rp 40,000 per liter.
The establishment of SPBU is expected to bring a positive impact on the economy and improve the quality of life and welfare of communities in Banggai Laut and Lanny Jaya.