CASIO-Gramedia Announces Expansion of Cooperation, Give the Concept of One Stop Shop
By : Hariyanto And Aldo Bella Putra | Friday, April 20 2018 - 15:00 IWST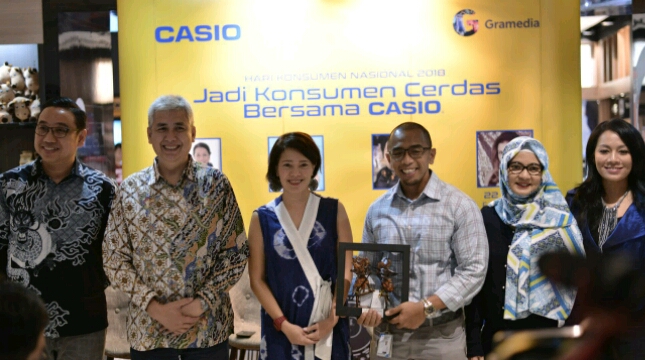 Kerjasama Casio-Gramedia
INDUSTRY.co.id - Jakarta - Casio Computers Pte., Ltd., together with PT. Gramedia Asri Media announces the expansion of cooperation in the form of more CASIO products that Gramedia customers can meet.
On the media talk show which was held in Gramedia Central Park, West Jakarta, Thursday (19/4/2018) was also announced a series of educative and fun events held in order to welcome the National Consumer Day 20 April 2018.
Answering the needs of Indonesian consumers who love the concept of one stop shop, CASIO now channel more products in Gramedia which has a very wide network throughout Indonesia.

"Our relationship with Gramedia has been long enough; CASIO calculator can now be obtained at 118 Gramedia outlets throughout Indonesia. The increasing variety of our products at Gramedia is one proof of our commitment to get closer to our customers," said Chief Representative of CASIO Singapore Pte., Ltd., Jakarta Representative Office, Hirokazu Satoh.
Meanwhile, Heri Darmawan, Marketing & Merchandising Director, PT. Gramedia Asri Media said the cooperation between Gramedia and CASIO is based on the same vision and mission, and the desire to meet the needs of consumers both in terms of education, entertainment, and lifestyle.
"Along with the transformation, Gramedia hopes this collaboration with CASIO can inspire and inspire innovation and creativity for students and students alike," Heri said.
Since February 17, 2018, through PT. TraCo's main friend, CASIO presents his watch at Gramedia. For the initial stage, watches are available at Gramedia Metropolitan Mall of Bekasi, Gramedia Pondok Indah, Gramedia Karawaci, and Gramedia Central Park. 20th April Casio watches can be obtained at Gramedia Harapan Indah and then in Gramedia Mall Depok.
Regarding CASIO watches in the first two months, Erick Moeksim, Sales Director of PT. TraCo's Top Companion says the sales are quite aggressive. "And we are optimistic that as more customers know the presence of authentic CASIO watches with up-to-date models, coupled with sales service from experienced salespeople, sales will surely increase."

Not only that, starting in May 2018, visitors Gramedia also been able to obtain CASIO music instrument, which entered through the official distributor of CASIO musical instruments, PT. Kairos Multi Jaya. For the initial stage, CASIO instruments will soon be present at Gramedia Central Park, Gramedia Lippo Mall Puri, Gramedia Harapan Indah, Gramedia BSD, Gramedia AEON Mall, and Gramedia Mall Town Hall.
From the SA and LK types that are intended for children, CT and WK series for family needs, to the AP and PX series digital pianos made for those who are just starting to learn piano to professional piano players.
Athanasius Cahyo Budiono, Sales Director, PT. Kairos Multi Jaya said, Gramedia with its strong National Networking has become an important part in the education of this nation through the books of other educational materials. "We hope that education and musical experience will experience the same thing, with the role of CASIO in it," he added.
Dee Lestari, writer and musician who became one of the speakers in media talks with CASIO and Gramedia revealed, Gramedia is one of the favorite places to stop. Going to Gramedia means a chance to look around and buy books and stationery.
"With the latest kosepnya, Gramedia become an even more fun place.The variety of products increases, including watches and musical instruments, so you can say that Gramedia has become a 'one stop shop' a place for a variety of quality products.