EL Toro Loco, Giant Car That Gets Attention From IIMS 2018 Visitors
By : Ahmad Fadli And Aldi Firhand. A | Sunday, April 22 2018 - 21:52 IWST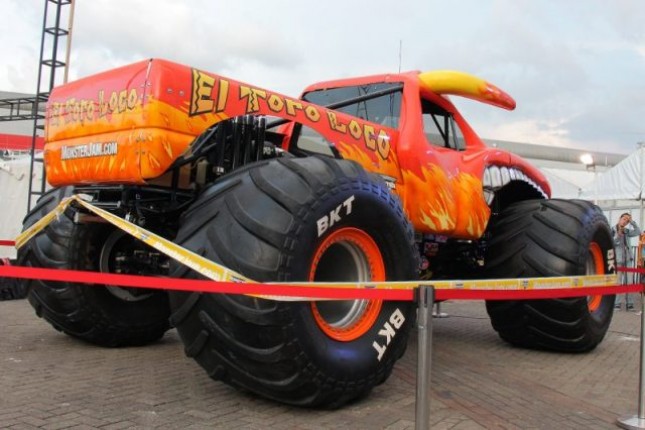 Signed directly from the United States, El Toro Loco will be a special guest during the mat Indonesia International Motor Show (IIMS) 2018.
INDUSTRY.co.id - Jakarta- IIMS 2018 Visitor at JIExpo Kemayoran, Central Jakarta is not only served a variety of automotive products, both motor and car and its supporters.
IIMS organizers also present other entertainment to invite visitors to new content.
One of them is bringing El Toro Loco to the biggest automotive event in Indonesia. The existence of more interesting to be examined, especially with stock owned. Giant car owned by FELD Motorsport from Florida, United States is carrying the Chevrolet V8 big block engine with a capacity of over 8000 cc.
With these provisions, El Toro Loco capable of deploying power with a range of 1500-1600 hp. Reasonable when he acted both race and free style, methanol fuel drunk reach 30-35 liters.
Indeed, in appearance this time, El Toro only be a display unit only. Even so, Dan Evans as one of the mechanics of the Giant could sound the roar of a car engine weighs 5 tons.
In addition to the engine, most El Toro Loco devices are custom made. One interesting thing is this car uses a wheel hub from forklift. Not only that, for the element of safety El Toro also already has a sling on all four wheels and also axle.
This is not the first time El Toro Loco gig outside Uncle Sam's country. Previously, they also had time to perform in Europe, Latin America and Asian countries such as China, South Korea and the Philippines.
The latest news is the title of Monster Jam Series will be held also in Indonesia. However, you have to be patient because the plan seems to be realized for 2-3 years.