Suzuki All New Ertiga Will Be Produced at Sophisticated Technology Factory
By : Ridwan And Aldi Firhand. A | Sunday, April 22 2018 - 22:08 IWST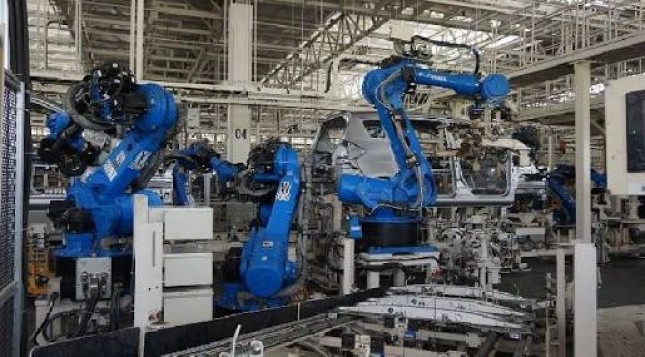 All New Ertiga Suzuki Factory in Cikarang
INDUSTRY.co.id - Jakarta, All New Suzuki Ertiga was launched for the first time in the world (world premiere) at the Indonesia International Motor Show automotive exhibition (IIMS 2018). Suzuki Indonesia directly produce it at Cikarang Factory, Bekasi, a day after launch.
Vice President Director of PT Suzuki Indomobil Motor (SIM) Kazuo Hakamata admitted very proud to hold the first production of All new Suzuki Ertiga event in Cikarang Factory as a sign of production start.
"We hope through this event our latest product can be accepted by the people of Indonesia," said Hakamata in his official statement in Jakarta (21/4/2018).
Suzuki Indonesia has an assembly plant located in Cikarang, Bekasi, West Java. The factory under the banner of PT Suzuki Indomobil Motor (SIM) is standing on a land area of ​​130.7 hectares. Its location is directly opposite the Wuling Motors factory.
General Manager of PT Indomobil Motor's Strategic Planning Department, Ryohei Uchiki, said that Suzuki's factory in Indonesia is the latest among the global Suzuki factories.
"Therefore, the Suzuki factory in Cikarang is equipped with advanced technology, more sophisticated than the Suzuki factory in Japan," Uchiki said.
According to Uchiki, in the last 10 years, Suzuki established three factories namely Sagara Plant in Japan (2008), Thai Suzuki Motor Plant, Thailand (2012), and Suzuki Cikarang Plant, Indonesia (2015).
Meanwhile, Assistant to Dept. Body Assembly PT Suzuki Indomobil Motor (SIM) Yudonendito said that 90 percent of Suzuki's factory operations in Cikarang use advanced robotic technology.
"The use of advanced robotics is intended to improve accuracy or precision in every job," he said.
Currently, a total of 217 robots are empowered in the welding process. The factory also has metal or forging printing facilities (for transmission components) and seats (car seats).
Cikarang factory was established with the aim to increase production capacity and quality of four-wheeled vehicle products for the national automotive market and export.
Despite using advanced robotic technology, Suzuki's factory in Cikarang absorbs 1,290 workers. The factory is divided into two buildings with two production processes namely powertrain production and assembly production.
Powertrain production has a building area of ​​35,200 square meters with a total of 570 employees. This section is responsible for machine production (casting, machining, assembling), and transmission (casting, forgings, machining, and assembling).
While the assembly production is in the building with the building area reaches 71,050 meters per facet. This section employs 720 people. Activities in this section include pressing, welding, painting body, resin, seat, assembling, and final inspection.
The Suzuki Cikarang factory currently has a production capacity of 120 thousand per year for car assembly, 71 thousand units per year (engine) and 176 thousand units per year (transmission).
Currently, the Suzuki Cikarang factory is used to produce New Suzuki Ertiga cars of all types for domestic and New Ertiga (K14B 1,400cc), and Karimun Wagon R (K10B 1,000cc), and four wheel drive transmissions.
"This factory in the future will also produce new cars Suzuki," said Yudho.
The factory is also equipped with high way test track facility to test the car product that has been out of the final inspection process.
From the factory in Cikarang, Suzuki Indonesia has exported 12,196 units of New Ertiga minibus to 25 countries in Asia, Oceania, South America and the Caribbean in the form of Completely Build Up (CBU). Engine and transmission of the factory is also exported to Thailand, Pakistan, Malaysia and India.