ARO LEPRINDO Leading Education Institution, Indonesia's Best Optisien Graphic Printer Graduate
By : Hariyanto And Aldo Bella Putra | Wednesday, April 25 2018 - 15:00 IWST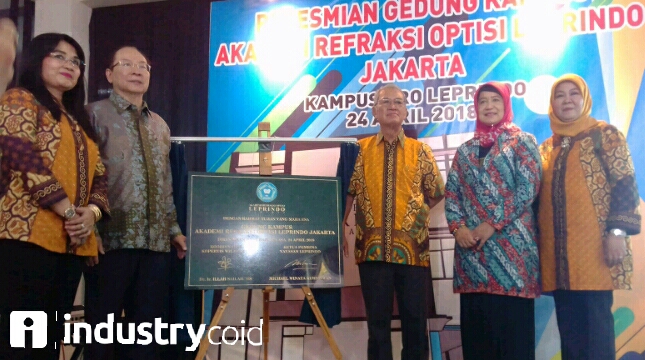 Peresmian gedung kampus ARO LEPRINDO (Hariyanto/INDUSTRY.co.id)
INDUSTRY.co.id - Tangerang - Optusu Refractive Academy The Optisien Educational Institution (ARO LEPRINDO), the leading Optisien (RO) Refractive Educational Institution in Indonesia in cooperation with optical and contact lens companies in Indonesia, continues to develop facilities and infrastructures to assist in the delivery of experts in their fields . One of them, by completing the latest clinical and laboratory facilities.
The Chairman of ARO LEPRINDO Foundation Handryn Muchzir Murti said that ARO LEPRINDO will cooperate with Optometry - Centro Escolar University, Manila to connect the students who want to continue their occupation to higher level.
"We hope to be a role model for other optical refraction academics, both in terms of human resources (HR) and facilities and infrastructure," said Handryn Muchzir Murti, OD (Doctor of Optometry) in Tangerang, Tuesday (24/4/2018).
In accordance with Ministry of Health Regulation No. PMK. 19 in 2013 concerning the operation of Optisien Refractionation (RO), every optic in Indonesia must have one Optisien refraconate in order to receive prescription of glasses and contact lens according to health standard.
With the establishment of PMK No. 41 of 2015 on the standard of refractive optical profession by the minister of health of the republic of Indonesia also made proof, that the existence of Refraction Optisien (RO) in Indonesia has been recognized existence.
"With the quality of education in ARO LEPRINDO is getting better and extensive field work, we hope the science of Optometry in Indonesia will be better known. So that the younger generation and parents can glance education Refraksionis Optisien (RO) as a promising profession in the future, "added Handryn Muchzir Murti.
The Director of LEPRINDO and the Chairman of lROPlN, Dian Leila Sari, A.Md.RO., Spd., MKES stated that currently there are 8,600 people as Refraction Optisien (RO) in Indonesia. On the other hand, the market demand for Refraction Optisien (RO) power is higher.
"The presence of ophthalmic opticians and large optics and even small continues to mushroom, but it is unfortunate that Optisien Refractionion (RO) in Indonesia alone is not worth the amount of its needs," said Dian.
The career path as an Optisien Refractionist (RO) is also considered quite promising. With its high demand and scarcity in Indonesia, it provides great opportunities for its graduates to work.
In addition, an Optisien Refractionist (RO) can open his own job as an Optical entrepreneur, the opportunity to become a civil servant (PNS) in a government hospital and also a lecturer.
All keshasrlan achieved ARO LEPRINDO until now cannot be separated from the support of Entrepreneurs such as Mr. Michael W. Kurniawan, as the main donor of ARO LEPRlNDO building construction and guidance or guidance of Kopertis Region III, as an extension of the Government of the Republic of Indonesia.
Established since 1978, making ARO LEPRINDO a pioneer who has printed Refraksuonis Optisien (RO) in Indonesia. In fact all the students who entered the study at ARO LEPRlNDO has been ogled by stakeholders and asked to work like du Hospital, Eye Clinic and optical optics in Indonesia.
The term Refraksionis Optusien (RO) itself may still sound familiar to the ears of Indonesian society. Optisien Relraksuonis (RO) is a health worker who must pass the occupation based on applicable legislation.
The Optisien Refractionist (RO) is a person who is authorized to perform basic eye exams, refractive examination, set the examination results, and prepare also make the lens of glasses or contact lenses.
As an institution that has been accredited BAN-PT, ARO LEPRlNDO itself supports the students with the best facilities and also the expert teachers in the field
"Most of the lecturers who teach at ARO LEPRlNDO already have a National Lecturer Number (NIDN) as well as the National Numbers Population Number (NUPN) even, one of our teachers is Dr. AM Ginting, SP.M is a Senior Optamologist. Has 4 of a total of 20 Doctor of Optometry (OD) graduates in Indonesia, " concluded Dian.