Program SANTUN Embraces All PPL Level East Java Province
By : Hariyanto And Aldo Bella Putra | Sunday, April 29 2018 - 21:30 IWST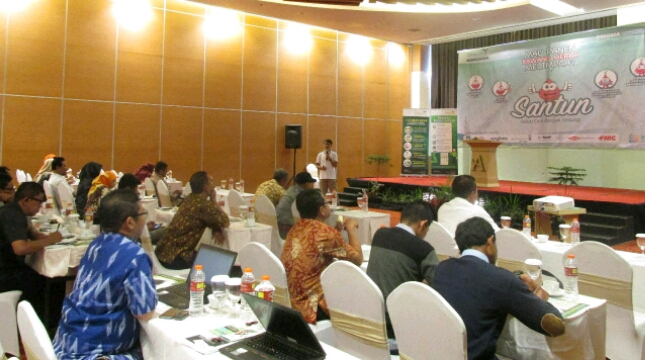 Kegiatan SANTUN
INDUSTRY.co.id - Malang - There is a different from TOT activities of the program NORTH (Solution Cara Banyak Untung) this time. Activities that typically focus on PPL, POPT and Key Farmers at the local level, this time targeting Provincial Agriculture Offices and 30 District Agriculture Offices throughout the province of East Java.
The event was attended by 50 representatives of the District and Provincial Agriculture Office at Atria Hotel, Malang City, Wednesday (25/04/2018), focusing on the theme of Agricultural Practice Training and Use of Pesticides that is Good, Safe & Environmentally Friendly.
said Executive Director of CropLife Indonesia Agung Kurniawan said, so far, the application of irrational pesticides is one of the weaknesses in onion production in Indonesia.
"In addition to causing high production costs, minimal profits and adverse effects on ecosystems, inappropriate use of pesticides will lead to health problems for farmers," said Agung.
The education program of SANTUN, which is headed by CropLife Indonesia and PRISMA (Promoting Rural Income through Support for Markets in Agriculture), has collaborated with the Agriculture Agency in East Java and West Nusa Tenggara.
During the period of 2017, SANTUN has touched approximately 279 agricultural extension officers and 2000 farmers (direct) as well as 51,000 farmers (indirect) who will gain access from training and activities undertaken, especially onion farmers.
This activity also involves KARSA, an android-based agricultural application platform to participate in publishing and disseminating information throughout Indonesia. SANTUN has been successfully held in several cities among them; Probolinggo, Nganjuk, Kediri, Bojonegoro, Bima, and East Lombok in the form of education to PPL (Field Extension Officer) and POPT (Observers of Plant Disturbing Organisms) in TOT (Training of Trainers) sessions, edification and meetings of farmers packed in the form of expo.
"Integrated pest and disease control (PHPT) campaign is one of the most effective mechanisms and controls. Which is an approach or way of thinking about pest control based on ecological considerations and economic efficiency in the framework of the management of agro ecosystems with environmental insight that continued, "said Agung.
Agung added that PHPT is also a pest control system that is part of a sustainable agriculture system. This underlies the activities undertaken by CropLife Indonesia together with PRISMA in helping to improve the knowledge of onion farmers in Indonesia.
"We as an association of eight multinational companies engaged in the field of pesticides and seeds in Indonesia are responsible for providing education including the use of appropriate pesticides that can help farmers in increasing stewardship .This campaign also aims to raise awareness of the farmers and farm shops will harm the product of fake pesticides, "said Agung.
He explained that the importance of understanding Good Agricultural Practice and Good Pesticide Practice is one of the key to improve crop productivity and realize the government's joy in achieving self-sufficiency and national food security.
"Education on integrated pest and disease control needs to be a priority for all pesticide business entrepreneurs because the business of agriculture is not only for profit but also taking into account ecosystem sustainability, health factors and business sustainability with farmers," he added.
Education about pest management and plant diseases, the use of pesticide products, the understanding of furniture and anti-counterfeit products are the hot topics presented in this training. In addition, an explanation of the importance of using PPE (Personal Protective Equipment) is not only when spraying, but also during other activities that are in contact with pesticides.
"Other materials that are also discussed are the 5 rules on the use of plant protection products (5 Golden Rules) include understanding the label, doing it carefully, taking care of sprayer, maintaining health and personal hygiene and wearing protective equipment as recommended," he concluded.
Nurhadi, POPT Malang officer who is a participant of this activity said, this activity is very useful because the material presented add knowledge especially to overcome the problem of pest attack.
"The knowledge of farmers on pest and disease diseases is not comparable with the problems in the field, with this kind of activity, to be an additional information media for us to be passed on to the farmers," he said.
The series of activities SANTUN will take place in the district of Malang and Banyuwangi targeting directly to farmers in the form of field education that is packaged in the form of expo. The hope, the number of farmers who get more education can increase the productivity of the plant.