Food Processing Process Made from Polystyrene Safe and Environmentally Friendly
By : Dina Astria And Aldo Bella Putra | Friday, May 04 2018 - 19:00 IWST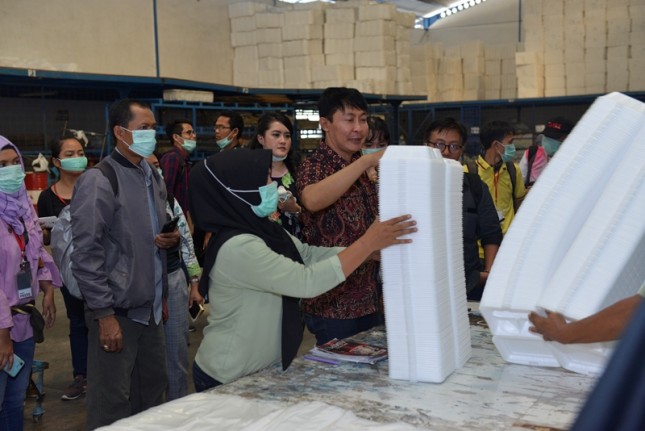 PT Kemasan Cipta Utama, produksi kemasan polistirena
INDUSTRY.co.id - Jakarta - Polystyrene is the main ingredient of various products that we often use in everyday life, one example is for food packaging. Lately, many issues circulate in the community regarding food packaging from polystyrene foam that is considered harmful to the environment because of its ingredients. However, it turns out that is not true. It is time people are educated with scientific facts about polystyrene from the impact of its use as food packaging, to the impact on the environment. From the side of Indonesian polystyrene foam producer, we will get deep insight from reliable sources about the production process of food packaging made from polystyrene foam.
PT Kemasan Cipta Utama is part of a group of seven Kemasan Cipta Group companies established in mid 1995, where they are generally engaged in the production of polystyrene foam packaging that can be developed (usually called Styrofoam) operating in Pasuruan, Karawang, Makassar and Semarang. In addition to the expandable foam polystyrene typically used to produce cooler boxes and electronic packaging, the company has also developed more product differentiation by producing Poly Ethylene Foam (PE Foam), Air Bubble Packaging, GPPS Food Containers, Polymer Mattress, and derivative products others.
Being a specialist in polystyrene foam products, for several years Packaging Cipta Group has developed polystyrene foams made from General Purpose Polystyrene (GPPS) for food containers such as: lunch boxes, food trays, and other items such as plates and bowls. GPPS and HIPS (High Impact Polystyrene) are food grade and safe in contact with food.
PT Kemasan Cipta Utama has 200 employees. By ensuring the best and safest use of material quality, the company produces about 2 million PS Foam products per day. In fact, when looking at the production process, GPPS Foam does not produce any waste at all, because the rest of the production material can be reused 100% into a new product. This refutes the argument in circulation so far. ITB lecturer and also experts from LAPI ITB, Ir. Akhmad Zainal Abidin, M.Sc., Ph. D also has the same view of GPPS Foam, he says that food packaging from plastic and polystyrene can be recycled directly into various other products. For polystyrene alone, the product can be broken down and reworked into a new product, herein lies the "sustainability" of polystyrene. All polystyrene waste can be used optimally to create new, functional and economically viable products.
95% of PS Foam packaging is air
Asked about environmental issues, Zainal said, "The first thing to know is that foam polystyrene is an organic substance. The elements that make up the foam polystyrene are carbon, oxygen, and hydrogen ". Zainal also has the same view of contamination of GPPS Foam packaging; he stated that plastic food packaging and polystyrene can be recycled into various other products. "For polystyrene only, the product can be broken down and converted into several new products, and herein lies the sustainability or sustainability of polystyrene. All waste polystyrene can only be used 5-10%, because the rest is air, "he said. "Because the polystyrene-based product floats above the water surface, it does not cause flooding. In addition, 95% of the air contained in the product makes it impossible to sink and not clog waterways, "Zainal explained."The cause of flooding is bad sewage management that ultimately results in blockage in the gutter. Heavy waste, such as metal and wood, can make the surface water shallow. Even worse, it can clog waterways. This is the latest finding from our team during the river waste survey to more than ten major rivers in Java ".