Dutch Companies Intend to Invest in Indonesia
By : Ahmad Fadhli And Aldo Bella Putra | Sunday, May 06 2018 - 10:00 IWST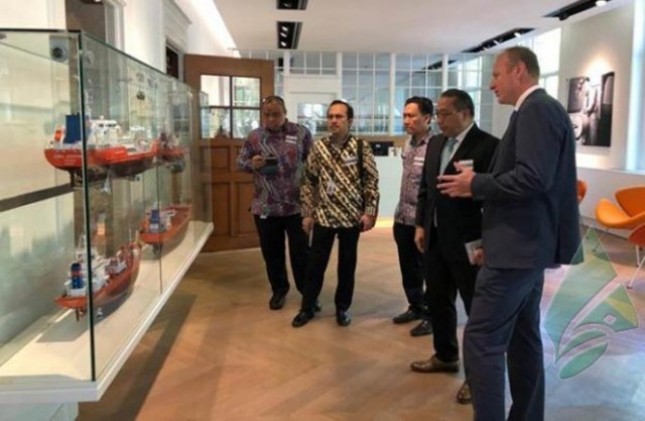 Dubes RI Den Haag diterima langsung oleh CEO AV Group, Jan M. Valkier dan jajaran manajemen perusahaan yaitu Ferdinand Dekker, Manager HR Marine dan Alex Spoelma, Crewing Manager di kantor Anthony Veder (AV) Rotterdam
INDUSTRY.co.id - Jakarta - Anthony Veder Group (AV Group) Dutch transportation company intends to invest in Indonesia in the field of logistics and transportation of natural gas.
This was conveyed by AV Group Leader / CEO Jan M. Valkier to Ambassador Hague, I Gusti Agung Wesaka Puja who visited the Anthony Veder (AV) Group in Rotterdam, the Transportation Attaché of the Embassy of the Republic of Hague, I Made Suartika told Antara London , Saturday (5/5/2018).
During his visit, the Ambassador was accompanied by Minister Counselor Protocol and Consular Affairs, Economic Counselor and Transportation Attache, AV Group interested to cooperate with the Indonesian side in developing the transportation and use of natural gas in Indonesia.
AV Group established since 1937, is a Dutch shipping company engaged in the transportation of gas and petrochemicals such as LNG, LPG, Co2, ethylene, and Propylene.
Ambassador Hague received the CEO of AV Group, Jan M. Valkier and the management of the company, Ferdinand Dekker, HR Marine Manager and Alex Spoelma, Crewing Manager at Anthony Veder (AV) Rotterdam office.
On the occasion, AV Group CEO Jan M. Valkier expressed his gratitude and appreciation for the Ambassador's visit and presented his company profile which is the first and largest gas tanker operator in the Netherlands.
Operating virtually worldwide, AV Group employs 1000 skilled workers from 15 different countries including Indonesia, carrying 1.5 million tons of gas per year, in the last 10 years the number of vessels / fleets has doubled with the number of 30 vessels currently.
As one of the largest natural gas producing countries in the world, Indonesia is a potential market for AV Group so that AV Group expressed its desire to invest in Indonesia, especially in logistics and natural gas transportation. AV Group is interested to establish cooperation with Indonesian side to develop transportation and use of natural gas in Indonesia.
Ambassador I Gusti Agung Wesaka Puja conveyed the Indonesian government's praise to Anthony Veder for his belief that more than 25 years of employing Indonesian seafarers at all levels.
It is expected that more Indonesian sailors will be employed by AV Group as Indonesia has more than 10 seafarers schools under the government that annually produce about 9,000 reliable and qualified seafarers. For the development of cooperation and investment in logistics and other natural gas and petroleum transport Indonesia, Ambassador of the Republic of Indonesia Den Haag conveyed the Embassy in The Hague ready to facilitate AV Group to communicate with related partners in Indonesia.
On that occasion the Ambassador submitted the Anthony Veder Company Certificate which was legalized by the Embassy of the Republic of Indonesia in The Hague as a document of the completeness of the cooperation between AV Group and PT. Equinox Bahari Utama Jakarta.