This CCTV Technology Can Recognize 60 Thousand Face of the Audience
By : Ahmad Fadhli And Aldo Bella Putra | Monday, May 14 2018 - 19:30 IWST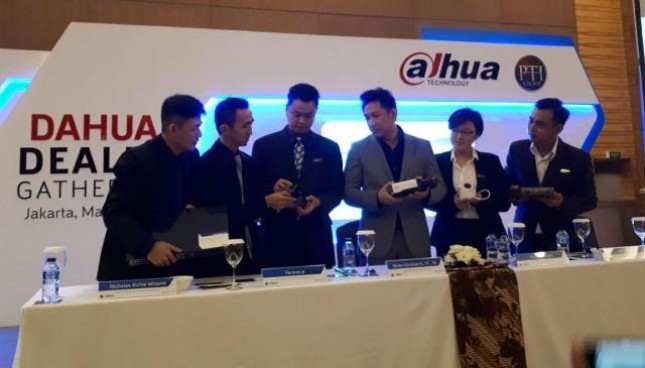 Dahua Technology sebagai penyedia solusi video surveillance & security system, menghadirkan teknologi Dahua AI yang menawarkan kemudahan dalam pengolahan data.
INDUSTRY.co.id - Jakarta - Dahua Technology as a provider of video surveillance & security system solutions, featuring Dahua AI technology that offers ease in data processing. Dahua AI security solutions can be applied to applications such as retail, traffic management, logistics and warehousing, in addition to enhancing business performance and creating real value in the physical industry.
Some features of AI that are applied in the world of CCTV are Face Recognition feature, License Plate Recognition, ANPR and people counting. With the technology, the camera can record the faces of people data and license plate of the vehicle that will be collected in a data center, making it easier for police to catch those who commit criminal as well as traffic violations.
Some time ago, the Chinese police managed to arrest the perpetrators of criminal acts at the music concert that was held. The sniffing was done after police identified the perpetrator's face through a number of cameras mounted around the concert arena. The cameras have been equipped with Face Recognition technology or facial recognition, so it can recognize the face of the perpetrators among 60,000 concert goers.
Dahua Technology itself is a Top 3 surveillance product for CCTV type globally with the forefront of advanced security brand with High Quality Product which is growing. Dahua Technology is here to answer the security needs, by bringing the latest CCTV technology and also reliable.
"Dahua has a complete total end-to-end solution security system and can meet all surveillance needs from consumer product to project-based across all industries. Coupled with a network of partners from PTI is widespread in Indonesia, of course, will provide fast and precise service to customers in any area, "said Herry Tjhin as Project Sales Manager of Dahua Technology.
PT. Pacific Teknologi Indonesia (PTI) itself is the first, largest and most complete distributor for Dahua brand in Indonesia. PTI grows significantly and consistently to become a leading distributor through hard work, commitment, dedication, and professionalism in the field of CCTV security with quality products. Currently, PTI already has more than 1,000 partners spread all over Indonesia.